Half Term Fun | Lazer Rush!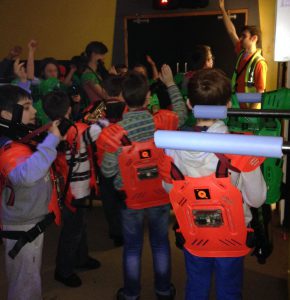 YLF took a group of 15 looked after children, aged 6 to 10 and divided them into two teams for a exciting game of Lazer Rush this half term!
13 out of 15 young people had never been before, this meant that it was an amazing new experience for them. This was an activity they may never have had a chance to go to before, due to cost and/or transport, so it is great that we have fundraised income to be able to provide such activities.
The group were able to spend time with other young people in care, make new friends and build on existing friendships too. We had two new young people who thoroughly loved the trip and were making suggestions of where we could go next time. They also started to make new friends.
Those scared of the dark were worried at first but by the end of the session they were running around and enjoyed the shooting game, realising it wasn't scary at all!
One of the funniest moments had to be the young people ganging up on the staff; the young people were a team!
"I just loved being able to run around firing a lazer gun!" Lillie, aged 9
"Lucy you can be on my team, I will look out for you" Justin, aged 10
The young people scored the activity a massive...
...10 out of 10 
..and they said that they really enjoyed the day!
We even did a 'pants and tops' score system with tops winning; the young people definitely want to go again!