October Half Term Happenings
Find out about our October adventures!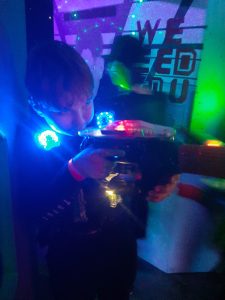 Laser Loudness!
A group of twelve excited young people from our Sittingbourne hub headed to Battle Sector X, Strood to see who would be crowned the ultimate laser tag legend!
The young people were soon diving round corners and ducking behind walls, working out the best attack and defence tactics!
It was great to see such confidence, and after sitting down for a meal together the chatter soon turned to 'who had come where' and 'when can we do this again?'
"Laser tag is awesome can we come here again?"
"It was a brilliant day!"
---
Behind the Scenes at M&S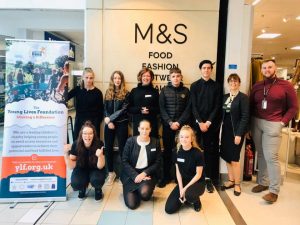 YLF are delighted to have been chosen as the Charity of the Year for the Marks & Spencer Hempstead Valley store. To kick off this partnership 10 of our young people were invited to enter the working world, by having a day with M&S!
The day began with some ice breakers and presentations about the history of the business, which was really eye opening for all.  An interview skills session was then held, giving the young people a real experience of what would be like to have an interview and induction day with M&S.
Tea break time! In came the croissants, followed by discussions about what we had learnt so far and what we thought might be happening next.
We then returned to the board room where we engaged in an 'Apprentice' style task! The young people were tasked with presenting sales pitches from a selection of M&S products. They did amazingly well and got stuck into the task, with the M&S staff commenting on how impressed they were.
Next it was time to hit the sales floor and learn the frontline work at hand.
The young people buddied up with M&S staff and were shown how each part of the shop worked. From clothing, to the food hall to the café. The young people got really stuck into their given tasks like re-stocking food shelves, re stocking clothing rails, tidying and folding displays and best of all actually experiencing hard graft in the café which they thoroughly enjoyed.
Throughout the day the young people had a chance to practice and develop their customer service skills approaching customers on the shop floor explaining that they were doing work experience and asking if they need any assistance as well as learning about how a big store like M&S actually operates.
It was a fantastic and day and we are hugely grateful to the M&S Hempstead Valley store for giving some of our young people this opportunity.
"I really want to get a job here, the people that work here are so kind."
"Such a fun day and I have learned a lot about work, its well hard."
"You can come and help out any time you like, it's been a pleasure." – M&S Staff
---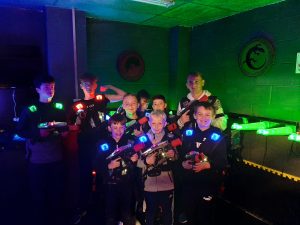 Gravesham Half Term Happenings
The young people from our Gravesham and Malling hubs met up at Battle Sector X in Strood for a few games of laser tag. The young people really enjoyed playing and had such a fun time. This was the first time playing laser tag for some of our young people and first time on a group activity for others!
A special thank you our supporters who very kindly fund the activities for the young people.
"Laser tag is fun, it's better than I thought."
"I've had a brilliant time today… was 10/10!!"
"I got the highest score and made a new friend."
---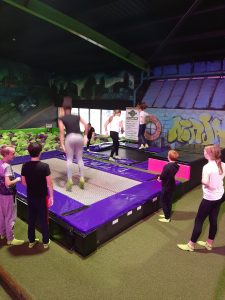 Gillingham Hub Flipping Into Friday
Flipping good times were had at Flip Out by our young people! They were jumping around on trampolines, climbing through inflatable runs and mazes, and jumping off large inflatable hills – what a way to end the October half term!
"I love this place!"
"When can we come back?"
---
Thanet Bowling Bonanza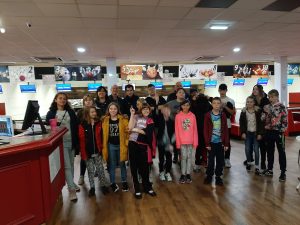 The young people of Thanet enjoyed a trip down to the bowling alley, with strikes, spares and high scores galore!
They all did really well with the highest score being 108 points…WOW! It was great to see the young people helping each other out and cheering each other on, and seeing their confidence grow throughout the session. They were especially delighted to beat the YLF staff team!
"Wow I am well chuffed with my score. Can we come back again??"
"Thank you for tonight I really enjoyed myself."
"Can we come again please? I want to get a strike next time"!