Team Building Tested At Arethusa!
On Saturday, 34 year 7 students from New Line Learning Academy, Maidstone, braved the rain, mud and cold to tackle some fun team building activities at the Arethusa Venture Centre in Upnor.
For the first four hours of the day the torrential rain tested their resolve but sheer determination overcame cold hands and feet to complete the high ropes, crate stack and team building tasks in heroic style.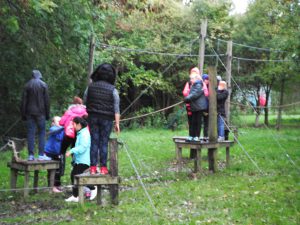 Although quite a few of the young people didn't know each other very well you would never have guessed it as they threw themselves into supporting one another to achieve their objective.
This was put to the test at the end of the day when a planned woodland walk down a steep track turned into group survival test to get to the bottom of a quarter mile of slimey, slippery slopes. It was just easiest to simply sit and slide down!!
"It has been so funny, I would do it all over again!"
Great fun was had judging from their beaming faces.  It shows that a bit of adversity brings out the true grit in us.