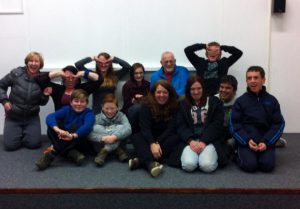 After our successful trip to find the Loch Ness Monster in Scotland last year, our intrepid adventurers have decided to go dragon hunting in Wales!
So to get everybody ready for this exciting new adventure, we decided to hold a team building event at Kingswood Activity Centre. Some of the original group of young people were joined by new and enthusiastic explorers, who joined in and got to know everyone very quickly.
The centre encouraged everyone to work as a team to get through the team challenges, supporting all the members of the group with each task and helping everyone to achieve their best.
Everyone enjoyed the 3G Swing although it was quite nerve wracking as they winched us higher and higher before letting us go! Ashley said "The best bit about it was all pulling the rope together and working as team".
We finished off the day with a planning session to talk about what we had learned from the activities and also what we would like to do on our adventure to catch a real Welsh dragon. Activities such as riding the country's longest zip wire and learning to survive in the wild Bear Grylls style, were very high on the list and everybody wanted to go camping!!
Watch this space for the next instalment of 'How to Catch A Dragon'!!