During half term, a group of young people arrived at the YLF offices, ready to go and explore the caves of Ramsgate!
We set off and with lots of singing on the way, we arrived and were ready to head to the tunnels.
Hard hats and torches at the ready, it was time for the tour to begin! Our Tour Guide told us lots of information about World War II, about the use of the tunnel carts and mining. The young people were shocked to find that people had to hide and live there while the war was going on.
After our tour, everyone enjoyed sitting on the beach eating their packed lunch and we also had time for ice creams before the journey home.
"The tunnels were really windy and dark, I don't think I would have liked to live there"
"The tour was cool, the lady told us lots about the walls, what they were made of and she showed us cool carvings in the wall".
"I enjoyed seeing the tunnels and eating ice cream on the beach after"
On Thursday, a group of 10 young people headed off for a Time Quest Escape Rooms experience!
The challenge?? To figure out how to escape from a locked room
!
Young people and staff were separated into two groups and went off into two rooms for different challenges, one to solve Agent 100 time travel and the other to Save Operation Neptune based on WWII.
After being briefed about their mission, the teams had one hour to work together to crack codes, solve problems and break into secret rooms. Did they escape? Yes they did!
"I didn't know what to expect from this, but wow it was really challenging!"
"This was my first experience of an escape room and I really enjoyed it. I would like to come back and try one of the other challenges"
"Some of the clues were easy to find, but others were really difficult. Overall I think that this was a fantastic activity and very different to anything that I've ever done"
"This was a cool activity. I enjoyed the mystery of it"
And on Friday, 18 young people headed off to Hagueland Farm on Romney Marsh to see all the beautiful alpacas.
On route, everyone enjoyed seeing the countryside and the sheep and there was discussion around "What was an alpaca?!"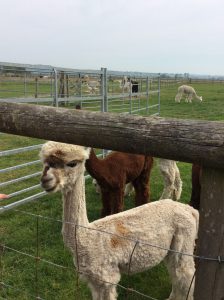 When we arrived, it was lovely to be greeted by Annie and the team, before heading off with Sam to collect carrots to feed the alpacas. We learnt all about the alpacas, their eyesight, what food they liked and how best to feed them. Then we headed off to the fields to meet and feed the alpacas!
With hands at the ready, the young people and Alpacas enjoyed feeding time, with a few giggles and surprises at how it felt to feed them!
"It tickled my hand when they ate from my hands"
After meeting and feeding all the alpacas, it was time to head off, but not without a lovely gift for everyone from Annie. Thank you Annie!!
We then headed off to Port Lympne Zoo to see some more animals in a rural area. We saw giraffes, tigers and monkeys before heading home.
With great thanks to Annie and everyone at Hagueland Farm, we are extremely grateful for all that you do for us!
"I loved seeing the alpacas, they are really cute"
"It was great to be able to feed an animal that we wouldn't normally see"
"Thanks Annie for the amazing day, I loved it!"