Rock 'n' Roll Running Success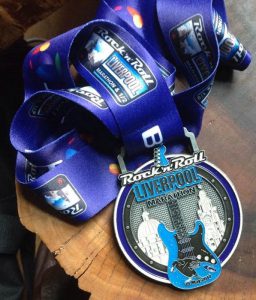 Liverpool Marathon runner, Kayleigh Stout, returns home with over £400 in sponsorship for YLF!
YLF were delighted to hear of Kayleigh's fundraising success and wonderful achievement of completing the Rock 'n' Roll Liverpool Marathon in just 5 hours 43 minutes!
Kayleigh says, "Running a marathon has been on my bucket list for a long time. Beyond the first few weeks, running is definitely more of a psychological challenge than a physical one. It has been a personal challenge, a rollercoaster of highs and lows in training and completely worth doing."
Kayleigh has a personal connection with YLF and says, "I chose to run for YLF as my mum is the Accounts Manager and I've been able to see the difference the team makes to young people in the local community through all the activities she is involved in."
The experience has been an enjoyable one and doing it for charity gave Kayleigh the lift she needed to keep going.
She says, "I was on target compared with my training times and surprisingly I enjoyed every mile and exploring Liverpool city. However, at mile 21 my feet started to hurt, and I had to walk for a little while. I was worried I was about to hit a wall so recalled the names of every single person who had sponsored me and thought about them individually for a few minutes and what YLF could use the money for. After a small low I was on my way again. I'm not sure what would have happened if I hadn't run for charity! I'm so happy I finished and crossing the line to the shouts of the crowd was worth those last few miles."
A huge thank you goes to Kayleigh and her sponsors! We are extremely grateful and the children of YLF will benefit hugely from her success!
If you haven't had time to sponsor Kayleigh yet, please visit: