With thanks to all of our supporters and friends that have been buying Christmas cards from us this year, we have been able to send a group of children on a special Christmas activity - to meet Santa!
On Sunday, YLF and a group of our children were invited to meet Father Christmas and have a ride on his very own miniature railway!
We drove off in our specially decorated minibus to a secret location near Maidstone. When we arrived, we found a fully functioning railway in miniature, with stations, bridges, tunnels and a turntable!
We didn't have to wait long for the 'Santa Express' that took us past several stations and through a wood before we finally reached Santa. It was great to chat to Santa and everyone received a special gift! When we reached the end of the journey there were special homemade cookies and mince pies. There was even a roasted chestnut stand that made everyone feel very festive.
Billy said, "I've never seen how they make roasted chestnuts before and it's great to see how they move the trains around."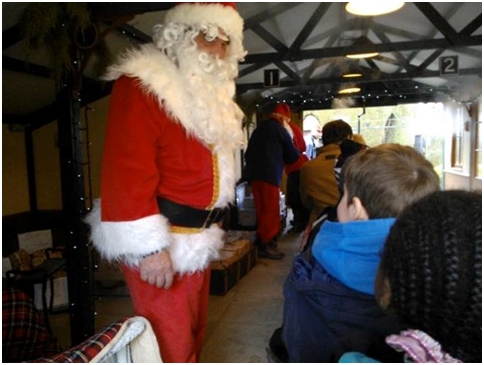 There was plenty of time to look around before having another ride on the train.
Anna said, "My favourite thing about the train ride was going through the forest and ducking under all the bridges!"
When it was time to go, we said our goodbyes to everyone and got back on the bus to go and round the trip off with a festive meal at... McDonald's!!!
All the children on the trip also received a gift and a teddy bear from YLF.
Olu said, "Thank you for today; this is the first time I've been to see Santa ever!!!"
---
Thank you to every one who has supported us with our Christmas fundraiser so far!
It's not too late to still make a difference! Christmas cards are still on sale!
Find out more on our Fundraise page.