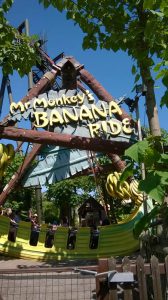 YLF took a group of excited young people for the coolest ride ever….
...To Thorpe Park!
With a minibus and car full with 18 young people, the early start to Thorpe Park began. Luckily the journey was traffic-free so everyone had an entire day to enjoy as many of the rides as possible!
On arrival the young people grouped up and headed straight for the rides - there was no stopping them! Some young people had never been to Thorpe Park nor had some even met the group before, so with thanks to funding from Thomas Cook Children's Charity, this was a new experience for most.
The young people loved the heights of Stealth - the largest rollercoaster in the park standing at 207 ft! Water rides like Tidal Wave also went down a treat - the best way to cool down from the sunshine by getting soaked!
The young people met together to eat lunch and all chatted about what rides they had been on and what their favourite rides were so far.
Amy, 14 said, "The best thing is going on the rollercoasters - they are fantastic and I'm going to try and go on them all!"
After lunch the young people headed off in their groups to enjoy the rest of the afternoon on the rides. Before long, it was time to gather back together, check out the souvenir shop and then head back to the bus for our journey home.
For the first half of the journey back the young people were non stop talking about the day and enjoyed sharing stories, listening to music and getting to know their new friends a little better. The second half of the journey was mostly spent getting a good sleep. Everyone was exhausted from their busy day!
Some highlights for the young people were:
"I really enjoyed being with the others - I've made friends and enjoyed having fun with them." Kim,12
"I have had lots of fun today and enjoyed the scary rides most." Lakiya,11
"The best thing about today was doing something different, instead of sitting around the streets where I live." Alex, 14