YLF Become An Approved Provider…
...AGAIN! YLF is delighted to be able to share the really positive news that we have achieved the 'NCVO Mentoring and Befriending Approved Provider Standard' - true recognition of the quality and high standard of service delivery on our Mentoring and Independent Visitors Services.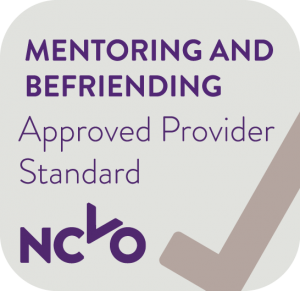 This is a real achievement for YLF as we now hold the accreditation for a further 3 years, 2017-2020.
A HUGE THANK YOU to the staff who play an incredibly important role in maintaining the high standards of service delivery whilst continually striving for further developments and improvements.  But of course, it's the mentors and befrienders themselves who carry out this invaluable work and YLF will ensure they are thanked and recognised for all that they do.
The full report highlights the high standards YLF delivers, good practice that we carry out daily and a huge number of strengths.
"YLF is offering an excellent service which is constantly evolving to meet the changing needs to the young people it supports. Based on the evidence provided, interviews with staff, volunteers and service users, the assessor has no hesitation in recommending the IVs, schools and community mentoring schemes for re-accreditation, and has identified a number of key strengths, which are highlighted in the report." - Assessor
YLF is particularly encouraged by the following statements:
Staffing and resourcing of the project have clearly been well planned and appropriate support and supervision is in place for the Coordinators. The commitment and enthusiasm of staff towards the project came across throughout the assessment visit with all staff demonstrating a genuine passion for supporting volunteers and helping young people.
The charity has a clear commitment to improving the lives of vulnerable and disadvantaged children and young people across Kent and Medway, the mentoring and befriending programmes are integral to this.
The structure of the charity was considered a key strength of the project allowing a holistic approach to be taken to meeting service user needs.
Volunteers reported feeling very well supported in instances where concerns had been raised.
As a result a wide range of outcomes are achieved through the service, ranging from increased confidence to young people feeling better able to cope with circumstances.
A BIG thank you to all who contribute daily to the delivery of these valuable services -  we are pleased with this wonderful achievement.
"Congratulations on your latest YLF achievement.  It is very well deserved and a tribute to all the hard work and commitment you and your service demonstrate every day.  Well done." – David Weiss | Head of Kent Troubled Families Programme
"She (Independent Visitor) has been with me through my 16th, 17th and 18th birthdays... It's made me think if this person can believe in me, I can believe in myself." 
"YLF have worked with me and my brother and sisters for ten years... We always felt like we stuck out, but they've helped us with education, anger, they've calmed us down and they've made us feel welcome again."