YLF President Raises Over £7,000!
Yesterday, YLF were honoured to be a chosen charity at the Clive Emson Auctioneers 25th Anniversary lunch.
Clive Emson, YLF President, celebrated his hard work with partners, friends and businesses and also
encouraged them all to dig deep and donate to the children of YLF.
Clive has been supporting the charity for over 7 years as the founding Chairman, an independent visitor and a volunteer mentor and gave recognition to the continued dedicated work of the YLF staff and volunteers!
We were delighted to be able to raise the profile of YLF to over 500 people present at the anniversary lunch at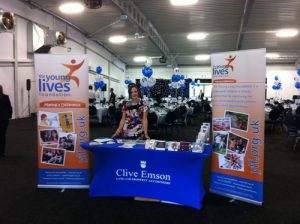 the Kent County Showground, Detling and are extremely pleased to announce that together they raised an amazing
£7,128!
This substantial amount of money will go straight to the front line work of supporting young people across Kent and making sure we are making a difference where it is needed the most!
We are so grateful to Clive and the team at Clive Emson Auctioneers for hosting a wonderful event and once again supporting YLF. Thank you to everyone who donated during that afternoon!