YLF Receives The Queen's Award
Her Majesty's Lord-Lieutenant of Kent Presents YLF with MBE!
The Viscount De L'Isle MBE, Her Majesty's Lord-Lieutenant of Kent, presented YLF with The Queen's Award for Voluntary Service (QAVS) at an awards ceremony at the exclusive Eastwell Manor, Ashford, co-sponsored by Turrloo Parrett and Magee Gammon, on Wednesday 5 August.
Over 80 special guests including the volunteers of YLF's Appropriate Adult Service, to whom the award is owed, attended the event to see Lord De L'Isle hand the crystal award and certificate to CEO, Stephen Gray and two of the longest serving volunteers, Janet Judges and Mike Lowrey.
Deputy Lieutenant, Kate Lampard, delivered a citation at the event followed with a speech by the Lord-Lieutenant who said,
"As Her Majesty's representative in our County I'm delighted to be here today to present The Queen's Award for Voluntary Service won by this marvellous group. What I am presenting today is not a run-of-the mill award. It is the MBE of volunteering.
Her Majesty rates the importance of recognising the wonderful work organisations like yours do in the community very highly indeed – and on her behalf I bring heartfelt congratulations and thanks. This group is truly exceptional and as Lord-Lieutenant I am hugely grateful for the outstanding contribution you make. The work you undertake and your depth of knowledge is so valuable and deserving of recognition."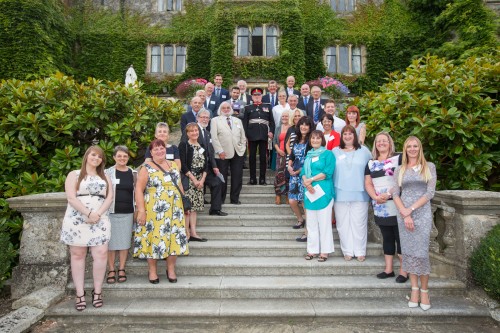 The Queen's Award for Voluntary Service is the highest award given to local volunteer groups across the UK to recognise outstanding work in their communities. YLF's Appropriate Adult Service is one of just 6 Kent charities to receive the prestigious award this year – equivalent to an MBE. Appropriate Adults give over 10,000 volunteering hours per year in the community, supporting children and vulnerable adults detained in Kent Police custody suites.
Kent Police nominated YLF last year, as they rely on the Appropriate Adult Service to provide independent support to children and vulnerable adults in custody. Without this support, such children and adults could not be interviewed in accordance with the provisions of the Police and Criminal Evidence Act and could not be processed through the Criminal Justice System. The volunteers accompany and support the children and vulnerable adults and ensure they are fit to be interviewed, that they are treated fairly and are not subjected to inappropriate questioning. A role that not only ensures detainees are being treated properly and fairly, but also offers comfort and guidance to the vulnerable, scared, anxious and sometimes even violent prisoners.
Stephen Gray, said,
"I am delighted that our Appropriate Adults have been recognised with this prestigious award. I have always been humbled by their commitment, dedication, professionalism and the number of hours each volunteer gives to support some of the county's most vulnerable people.
Our partners, Kent Police, Medway Council and Kent County Council value and recognise their contribution, so it is with great pride that this has now also been recognised at a national level. We can say with some confidence that our appropriate adults are some of the most dedicated volunteers in the country."
YLF would like to thank our very special guests and wonderful volunteers for attending the event to celebrate with YLF, one of its landmark events! A very proud time for us all involved!