Reaching new heights on our two day residential at PGL!
Fun, Sun and New Experiences in East Sussex
We arrived at the PGL centre and were greeted by our host for the next few days, 'PGL Lauren'! After a quick tour of the site with her, we jumped straight into our first activity…
Trampolining-Netball …Aka… Aeroball! The boys quickly got the idea of the game and came on leaps and bounds to get some pretty impressive scores!
We then dived in to our next session which was swimming in the outdoor pool!  The water felt a bit nippy but none-the-less, fun was had and it was a great way to cool down after all that jumping!
After some dinner we were all put to the test mentally and physically in the team challenges session.  This involved some variations of capture the flag and some muscle flexing tug of war!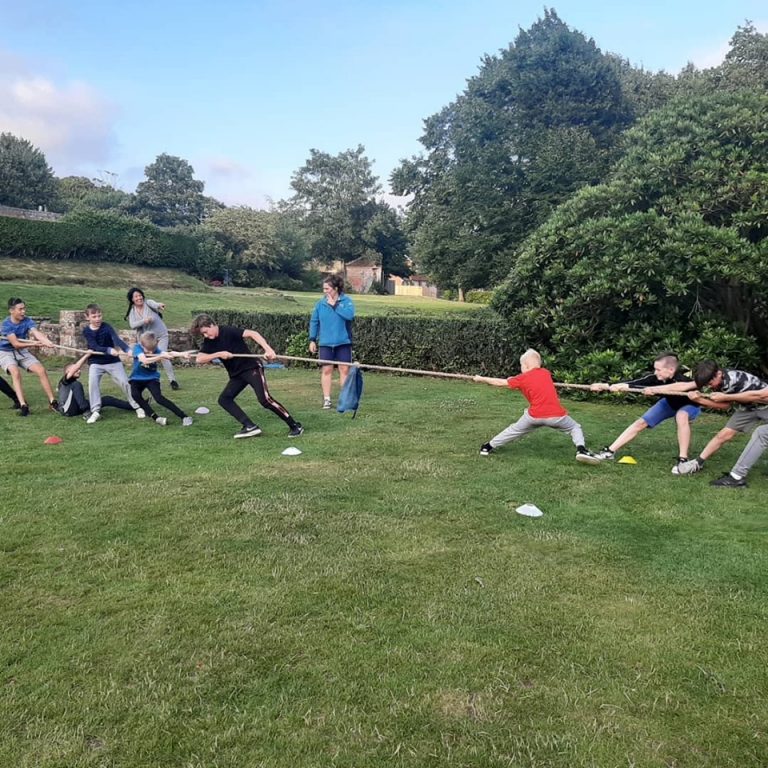 The next morning after breakfast we began with not one but two water activities!  Starting with some raft building the young people worked together to build the ultimate unsinkable raft!  After some impressive teamwork and guidance from the instructor – the raft was complete and was placed on the water to set sail…
The good news is the ultimate unsinkable raft did not sink!  The not so good news, was everyone fell off into the lake!
The next water activity was canoeing. Some of our – now a bit damp – young people were worried about getting wet again but were assured that canoeing is considered a dry activity and were highly unlikely to get wet.  Within a few minutes two of our YLF adults managed to fall in the lake!!  Which of course was of very high amusement to our young people!
To end our second day, we reached new heights with some rock climbing and after all of the high intensity activities, finished with dinner and then some music and a campfire – with fire-roasted smores – yum!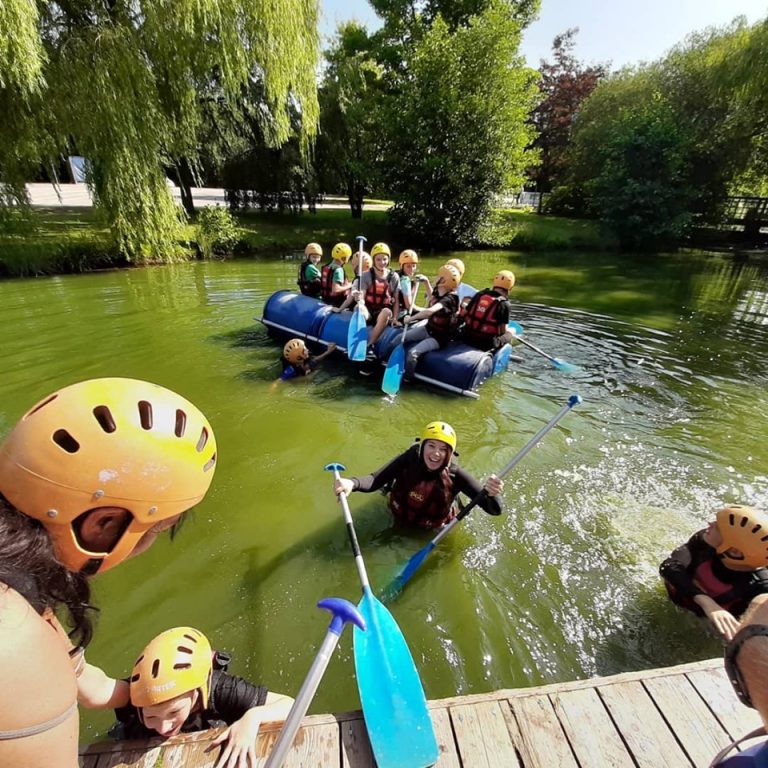 There was no time to hang about on our final morning consisting of Giant Swing and Zip Wire!!  The swing was by far the most enjoyed by some of our older young people and it was a fantastic way to end our adventure.
Karl said, "I've made friends and had a really great time!"
Feedback from one parent was, "My son wasn't allowed on his year 6 trip due to his behaviour being deemed 'uncontrollable' by his school.  YLF have proven that with his mentor and the right support he has been able to attend and enjoy his time at PGL, without there being any issues at all… thank you so much for taking him, he's had a ball!"
A huge thank you to funding from BNP Paribas – without this support our young people would not have had this superb experience! It was our first overnight trip for the Maidstone and Tonbridge young people and for some it was their first ever holiday! Thank you!