A show stopping experience for our young people to support their Arts Award!
School of Rock certainly ROCKED!
It was our first year celebrations for our young people of the Sittingbourne Hub, and we were all so excited to celebrate by going to London to see School of Rock the Musical at the Gillian Lynne Theatre! 🎭🎬
In anticipation for what was to come, we happily sung, 'Ten Green Bottles' on the way using our loudest and best singing voices (apart from the coach driver!) and before long, with thanks to funding from the KFC Foundation, our young people had arrived in London – for some it was their first adventure outside of Kent! 🎡
Ruby said,"We are super excited and cannot wait!" But only we could arrive over an hour early – to ease the long wait, we managed to find a park in the middle of Drury Lane equipped with a basketball court, so a match broke out between  volunteers and young people all playing basketball 😃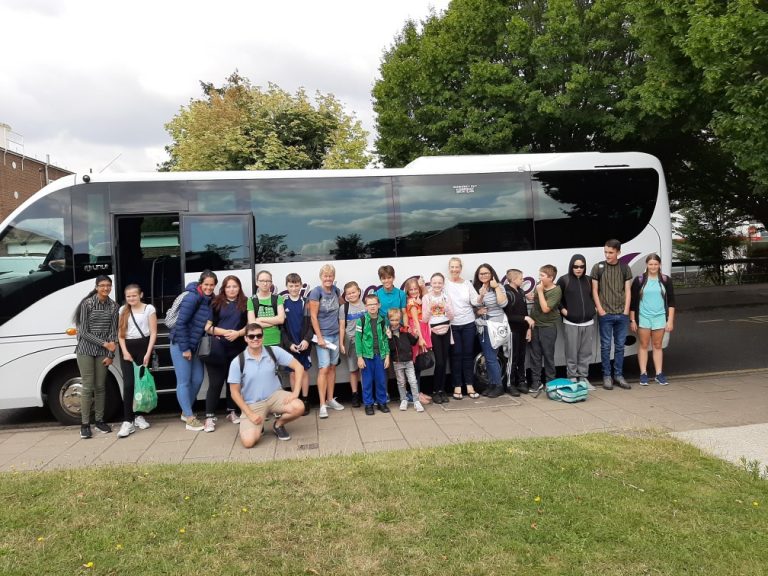 The time had finally arrived – we could not wait to find Door 5 and for the show to start! … It was so good that in fact, we hardly stayed seated in our places and every young person was clapping and singing, smiling all though the show, and not even a toilet break! Amazing!
When the show came to an end, the group could not stop talking about how great it was. Comments included;
"That was so much better than the film!"
"I loved the kids singing and dancing!"
"The best bit was when we were all up standing and singing and dancing at the end!"
"I have never been to see a show before, how amazing was that?!"
"So, when can we go again?!"
An absolute joy to gift the group this experience – with thanks to KFC Foundation. Not only will this experience remain well remembered but will also contribute to each of the young people gaining a nationally recognised Arts Award!
Rock on! 🎤