A group of 30 pupils from New Line Learning Academy (NLL) set off on Friday to see Aladdin, the pantomime at the Marlowe Theatre, Canterbury.
We arrived promptly to take our seats ready for the story to start. There was lots of silliness, fun and smiles. One funny part was Aladdin's mum, Widow Twanky, accidentally forgetting to move during a scene, missing the curtain drop and then trying to re-join the cast on the stage - totally planned of course! But the best bit by far was Aladdin falling in love with Princess Jasmine.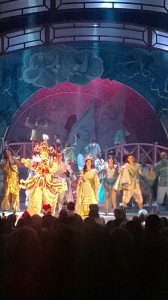 "I really enjoyed that! The best bit was Wishy Washy squirting us with water pistols" said Justin.
After an ice cream break the second half begun with a messy and very silly rendition of 'Twelve Days of Christmas'. The Policeman's face was smothered
after being pied several times, there was lots of slipping and sliding everywhere but there was giggles and rapturous applauds from the audience and our group.
The show ended with Aladdin getting married to Jasmine and the Theatre's Music Director being suspended from the ceiling playing the guitar!
A wonderful pantomime thoroughly enjoyed by everyone - we really recommend it!
"That was the best pantomime I have ever seen" Daisy
"I loved the whole show, it was amazing" Charlotte