YLF had the pleasure of attending a Christmas family fun day on Sunday, bringing Santa along with them!
Children from all over Kent came along to the Swattenden Centre with their families for a day of fun outdoor activities, arts and crafts but most importantly to visit Santa's Grotto!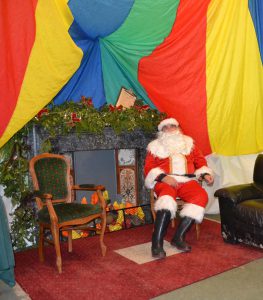 The Kent Troubled Families Teams delivered the day to those families most in need and YLF contributed to the day by bringing along Santa to deliver gifts to the children. Santa was exceptionally giving because his elves had helped him to gather gifts that have been kindly donated to YLF from The Entertainer toy store and Heart FM's Giving Tree campaign at Bluewater.
Children of all ages made a visit to Santa in his grotto, telling him what they would like for Christmas. As the children came into the grotto their faces lit up! There was Santa sat by the fireplace next to a beautiful sparkly Christmas tree and a mountain of presents to give out.
When asked by Santa what she would like for Christmas one young lady replied "I love 'Frozen'. Anything 'Frozen' would be amazing!" Santa then presented her with her gift which she opened and her face said it all "Wow! It's Elsa from Frozen" She was so pleased. "Thank you Santa".
All of the children were so delighted and loved their gifts from Santa. Some were opened straight away with excited fingers ripping away at the wrapping paper, whilst others said they are waiting patiently until the big day.
Sunday was a wonderful day enjoyed by all including Santa and his helpers!
YLF are exceptionally thankful to The Entertainer for the toys donated in the trolley dash earlier this winter, and to Heart FM and Bluewater for their generous customers donating toys under The Giving Tree.