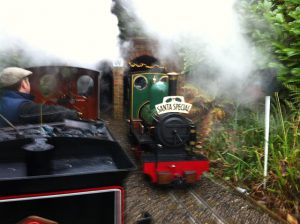 All aboard the Santa Express Steam Train!
YLF had the pleasure of taking a group of young people aboard the 'Santa Express' to visit Santa at the weekend.
Excitedly the group arrived and were warmly greeted to a beautiful garden where the Santa Express steam train was waiting, ready to take us to meet Santa.
'Choo Choo', the train whistled, our ride was ready.. We travelled through woods, tunnels, over bridges and past stations before arriving at the place we had all been waiting for... There was Santa and his elves!
He made his way down the train and gave out presents to everyone. "I love my kite that Father Christmas gave me, it's so big it's more like a hand glider" Justin, 10
Before leaving we had roasted chestnuts, homemade mince pies, sausage rolls and cookies too...! After all the lovely food and opening of presents, it was time to say goodbye and head on our way.
YLF are extremely grateful to all who contributed to make this possible - the children were especially grateful for their gifts.
"I loved today, I really liked seeing Father Christmas and getting a present from him." Alisha, 5