On a cold afternoon, a group of young people followed in the footsteps of Lewis Hamilton and raced each other around Buckmore Park go-karting track!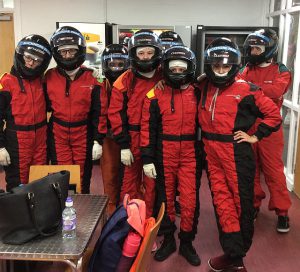 The young people ranged in age from 13 to 18, but it was evident from the determination and competitiveness on display that age played no part in the outcome!
Justin held the fastest lap for over half the race until Aaron beat his time by a fraction of a second. But it was all in vain when on the very last lap, Shannon showed all the boys up by going for it big-time and smashing the fastest lap record and winning the race! Congratulations to Shannon and well done to everyone else for coming along and taking part in one of the groups favourite and exciting activities.
"I can't believe I won. I beat all of the boys and some of them are much older than me. I love my winner's trophy. I'm so proud of myself!" Shannon
"I loved go-karting. When can we come again?" Cameron
"I really enjoyed trying this activity for the first time. I definitely want to do karting again. I'll be better next time, I definitely won't come last again!" Liam
"Wow, I want to work here. I would love to do this as a job." Dean