A group of ten young people had the exciting opportunity of heading to Buckmore Park for some adrenaline fuelled fun racing go karts!
The group were split into two groups of five; the first group headed off to suit up and receive their pre-race safety briefing whilst the others eagerly awaited the racing to start by watching from the balcony.
The first lap was a just a warm up following behind a safety marshall, but once the marshall made his exit via the pit stop the race roared with full throttle competitiveness!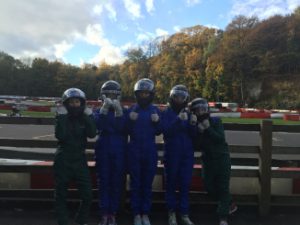 Each lap was timed and everyone aimed to beat their personal best with each lap, but chaos initially ensued and there were many spins out of control. Red flags were waved to warn the remaining drivers and then it was back to business.
Abdel was clearly the race leader for 25 minutes, but after an exciting comeback from Mengs, Abdel's time was finally beaten by just 1 second! So congratulations to Mengs for recording the fastest lap time of the day - which was also only 10 seconds behind the all-time track record!! Wow!
"I've never been in a go kart - it's so much fun! I'm proud to have the best track time."
The second group took to the track and drove more carefully, but Shannon even managed to record a lap time of just over 46 seconds which was very quick and something to be very proud of!
After the second race finished, everyone was very thrilled to have taken part...
"Go karting is one of my favourite activities lately - I really want to come back!"