Thorpe Park Fright Night!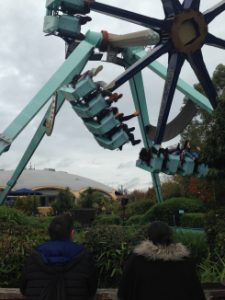 A very excited group of 12 teenagers set off with YLF for a Halloween day out to Thorpe Park's Fright Night!
After fighting our way through the M25 traffic and hearing 'are we there yet' a thousand times, we arrived ready to get started on the rides at the park. There were ghosts and ghouls walking around in preparation for fright night but they did not scare any of the young people - they were all very brave!
Many of the young people did not know each other but they soon made friends and were happy to encourage each other to go on many of the scary rides.
There was plenty of screaming coming from them during the first ride on the Vortex, followed by the young people laughing at the grown-ups getting very wet on Tidal Wave! There were also a few gasps when looking up at Stealth with comments like,
'You won't get me to go on that'
'I love that ride'
Some of the rides were too scary for some but for others no ride would deter them - some were braver than others! For the not so brave, the Angry Birds 4D movie was a great experience! There were plenty of screams and giggles when they were thrown about in their seats, having water and wind in their faces!
No body wanted to leave that day, quite clearly they had all enjoyed it when the comment 'So when can we do it all again?!' was heard!