Inside India | Bye Bye My Friends
25/08/2015 | By Tiffany...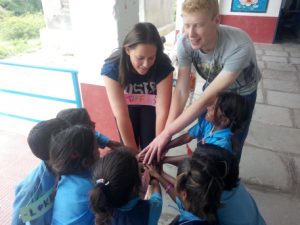 "Today we woke up and got ready for our last day of school. We were all a bit emotional and tense but when we arrived at the school and the children were all saying 'sir' and 'dee dee' (meaning big sister) we all lit up!
We started the day by singing the 'good morning song' and then headed off to our classroom to start teaching our lessons.
First me and Matthew taught the children letters of the alphabet and then gave them a lower case letters worksheet and they got straight on with it! They were really, really good today and looked like they were having a great time.
After the worksheet we gave them my t-shirt and felt tip pens to let them draw, colour and write their names on it.  Then I gave them my other t-shirt and got the paint and brushes out - that's when they got very excited! They all couldn't wait to do it! They all had a paint brush and they painted their hands to make hand-prints on the t-shirt, which I can now keep as a souvenir!
All of my class enjoyed this and even Emma and Paddy's class joined in with this activity.
At the end of the lessons we all sang the 'goodbye song' and that's when I got a bit emotional - I couldn't really sing! The hardest part was when the children came up to me and hugged me goodbye. I am going to miss my students a lot and I am very sad that we are never going to see them again. Today was excellent and honestly one of the best days of my life and of my whole trip!
Later in the day, after our free-time, we all packed for the desert and the fort where we were heading the next day. We then went off out for our last time at the boys orphanage. This wasn't as emotional as the school but it was still very sad. Despite this, we still had a lovely time dancing and singing with all of the boys and the other volunteers.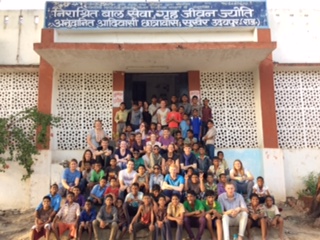 We ended the day there with the 'goodbye song' and that's when we took a huge group photographs with all of the boys and the volunteers. This is when everyone got a little teary eyed and the ride in the taxi home was a very quiet journey.
Everyone was just rethinking the amazing days and moments we've had with these children at the school and the orphanage. It is defiantly the best experience of my life and I have enjoyed every moment so far and will never forget them children."
The Goodbye Song
(to the tune of Row Row Row Your Boat)
Bye, bye, bye my friend,
Thank you for today,
Toodlely toodlely toodlely tooo
See you soon again