Inside India | We Have Returned
The Final Weekend 29-30.08.2015 | By Paddy...
"Saturday was our last day, and with our bags packed we all knew that today would be the toughest of them all because it was time to say goodbye.
There was one last surprise in store when we found out we were heading to the boys home for the brother and sister traditional Indian festival which I was happy about! We only had about half an hour but we used the time to swap bracelets, have fun and dance! When we had to leave, it felt even harder saying goodbye this time but I will take away some of the best memories from being here.
When we got back to the volunteer house we had to make sure our suitcases were packed as we had a very early start in the morning - 4am we had to be up! All we really did for the rest of the day was relax and chill with each other. We had a group meeting which got very emotional - we were all in tears  - yes - including the staff!
The time had come. As we all arrived at Udaipur airport, most of us were very sad and emotional that we were leaving India ...but happy we were seeing our families soon.
We unloaded the cars and started saying our goodbyes to the people who have become part of our family and who we will never forget; Neeraj and Lee from Basti Ram and Pankaj, aka Bubba G!
Then the emotion kicked in as we waved goodbye. We were all crying as we didn't want to leave and it was very hard for some to say goodbye especially because the Basti Ram staff were not joining us on on journey back to England. Even going though security, everyone was very quiet and still emotional.
Very tired and drained, most of us slept on the first internal flight and missed breakfast. Once we arrived at Delhi we had a 4 hour wait but first we had to go through security for the second time which took ages. After we got past security, we all went and got something to eat as we were very hungry; seeing McDonalds and Dominos signs gave us all a little smile....we had missed English food!!
We took a look around the shops before we had to go to our gate. Finding free Wi-Fi was good because it meant I could FaceTime home and tell them I'm okay.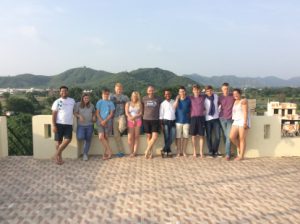 The flight felt so long, but most of us slept or finished writing our journals - I guess everyone was just thinking about the amazing experience we'd just had. After a long 10 hour flight we then had to queue to get through customs (passport control) for 20 minutes. After we got through there, we had to wait a further hour for our luggage to come out! Finally..... once we all had our suitcases, we were all very excited to see our families as they had been missed!!
As we walked through the door, I saw my foster carers waiting there for me - I couldn't be happier as it was so nice to see them. Everyone was very happy to see their families and the emotion you could feel was truly amazing.
To sum up my experience... I can say that it has definitely been one of the most incredible things I have done in my life. It has been an emotional and very challenging journey but has made me overcome so many things and I have enjoyed absolutely every second. I have had a great new family around me to enjoy it with too but I will miss being with them. This trip has definitely been life changing for me because now I look at things differently. Yeah I have only been gone two weeks and I would love to stay but now I can plan for my future and believe in myself.
I surely can say I will never forget this experience and we are all very thankful to Basti Ram and YLF for making it happen."