The BIG Match! | It's All Kicked Off!!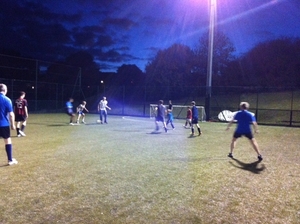 Last night, Medway's Children in Care Council (CiCC) took on a team of Medway Council staff for a friendly warm-up, ahead of the "big-match" on Wednesday 30th October. 
This 'never-seen-before' event which came as a request from the CiCC, is to raise some much needed funds for an overseas volunteering experience and to improve relationships between young people and their social workers.
After a gentle warm up, all players found their feet and the battle commenced!
The young people were delighted to be able to take on some of their corporate parents, who were clearly dazzled by the skills on show and resorted to the old fashioned style of football...
Rough 'em up and hit and hope!
But our young footballers were not deterred and continued to give a lesson in the beautiful game.  After an hour of football, the young people were somewhat relieved their older opponents had survived, despite showing some anxiety ahead of Wednesday's "big-match!"
The gloves are off! The lack of social workers was noted…. Running scared or late as usual?  ;-)