23 young people from around Kent headed off for on an overnight experience to Kingswood Adventure Centre, Ashford!
The young people enjoyed a total of 7 activities testing their bravery, physicality, hand-to-eye co-ordination and their teamwork.
Activities included archery and outdoor laser where a steady very hand was required!  Many of the group hadn't tried either activity before and where really pleased to be given the opportunity.
"I liked learning about archery as my favourite film is The Hunger Games" said Molly
One of the favourite activities was the 'aerial runway' – where the young people had to run off of a high platform (with harness attached!)
"I really liked meeting new friends" said Ben
The final activities on day 2 were 'team challenge' and '3G swing' which both required a great deal of teamwork.  The 3G swing required the whole group to work together using a rope system to raise the two young people's 3G swing up to the required height – up to nearly 20 metres, before releasing! It wasn't for the feint-hearted!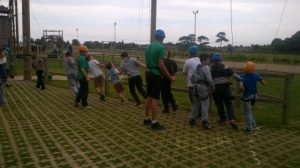 "This weekend I learnt that I can do things – I just need to have a chance" said Lacie
Before anyone knew it, it was time to go home – much to the disappointment of some!
"Do we have to go home? Can I stay and live here?!" said Leo
Overall feedback from the young people was very positive and when asked to sum up the weekend in one word some said: "Amazaballs!" "fun" "Awesome" "Amazing" and "Brilliant!"
"I've had a brilliant time" Charlie