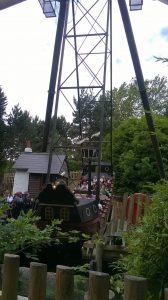 15 young people from Challengers Juniors youth group headed with YLF to Chessington for a fun packed day of rides and adventure.
Some of the young people had been to Chessington before but for others it was a new experience. The young people had the opportunity to catch up with old friends as well as make new friends.
Once we arrived we split into 2 groups, and arranged to meet up at lunchtime so we could all share our experiences of the morning, what rides we had been on and which were the most enjoyable or scary!
The rides we went on included the Cobra, a rollercoaster ride which spins you around fast, The Scorpion, Bumper Cars, the Vampire Ride and the Chessington train which took us over the top of the park on a monorail and gave us an amazing view of the whole park, animals and Sealions.
We all met up at lunchtime and sat and talked about our adventurous morning and which rides we would be going on in the afternoon.
After enjoying many more rides in the afternoon such as Dragons Fury and the Bubbleworks, we headed back to the mini bus. The day went all too quickly!
"It was great to be able to go on rides that I wouldn't usually go on" said Henry
"Being the only kid on Rameses Revenge was the best thing" said Verity
"Dragons fury and Vampire - I love it!" said Alex
100% of the young people gave the trip 10/10