Check out our October Highlights …with thanks to our dedicated funders.
A Welcomed Escape...
For some Halloween fun, first off, our Legends of Thanet got involved with some pumpkin painting – glitter and all! What a great memento to take home for the half term…
"I loved making these and using glitter!"

"I am so happy you remembered from last year when I asked if we were going to do Halloween stuff – thanks – this was so much fun."
Then a welcomed escape from our daily routine to The Escapement rooms in Margate where the young people took on 'The Pit'… and managed to get out with only minutes to spare! What great team work, use of communication skills and leadership – especially when helping one another through the dark fog – well done Legends!
"This was so much fun, thank you I loved it!"

"I found it hard but I still enjoyed it and everyone helped."
Diggerland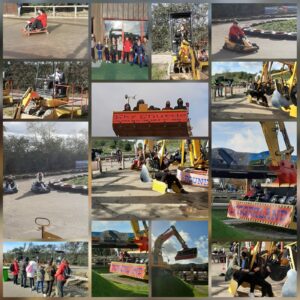 Our Sittingbourne Legends had an enjoyable time at Diggerland. From spinning around on rides and shooting to the sky in the Sky Shuttle, to playing 'hook a duck', it was a fun filled day, building on confidence and learning new skills – and a burst of social interaction we know is good for everyone right now!
"I really loved the Sky Shuttle."

"Even though I did feel a little sick after spinning around on the digger ride, I'd go on it again!"
Whatever The Weather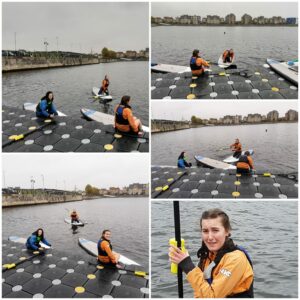 The wind and the rain may have arrived during half term, but guess what?! That did not stop our young people hitting the water and build on their paddle boarding skills. The Medway Legends enjoyed paddle boarding in the summer sooo much that they had to return this October Half Term!
They found out how far back on a paddle board they could stand before going into the water – they learnt that their youth leader doesn't have a lot of core strength or stability and with one shove would fall into the freezing cold water – and they learnt that October's water temperatures are not for the faint hearted! But we are sure to be heading here again some day!
"That was cooollllldddd…. Not sure I want to do this in October next year!"

"I loved it! I even got to film it on my water camera!"
S-No-W Worries
It may not be snowing just yet but it didn't stop our junior Legends from heading to Chatham Ski Centre for snow tubing and tobogganing!
With some of the group never experiencing this before, they started off a little nervous and anxious for what was to come, but with encouragement, support, and a few funny jokes thrown in, their nerves eased and they were ready to go! They hit the toboggan run flying, and enjoyed the speed and buzz from it all. A great challenge conquered!
"So when are we coming again?"

"That was scary at first but I'm so glad I did it!"

"Can I have another hot chocolate to warm up?!"
Interviews... With Pizza!
It may have been half term, but we were also celebrating National Care Leavers Week. We are so proud of senior Legends and care leavers for taking part in interviews (and eating pizza!) at Mid Kent College to better their skills!
With CV's previously prepped, our Legends attended a Job Fair suited and booted looking really smart to experience virtual interviews with a range of employers. This was an awesome opportunity for our young people to experience what it is like out in the employment world and what is expected of them as 'Interviewees'.
Our young people completed a full briefing in the morning and braved 2-3 interviews over the afternoon. They did an outstanding job and the employers were so impressed with their professionalism and confidence. The feedback was incredible and we couldn't have been prouder.
To celebrate, our seniors and care leavers took to the treetops at Go Ape at Leeds Castle the following day. A perfect opportunity for some fun, adventure and of courses to let off some steam and forget about the Covid craziness that we are all experiencing at the moment! Well done Legends!