This week our group of youngsters headed down to Hythe for a special train trip!
This wasn't a usual train journey into town or to the capital, it was a more scenic ride. We boarded the steam train from the Romney, Hythe and Dymchurch Railway (RH&DR)...
We disembarked at New Romney for a look around the train museum and it was great to hear Billy share his insightful knowledge of trains and transport at just age 10! The group also had some fun with the free quiz to spot various items such as Daleks and Dinosaurs within the huge model railway on display.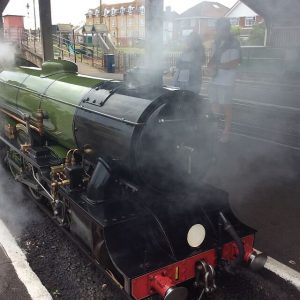 We re-boarded the train and headed down to Dungeness where we had some lunch and played on the pebbly beach throwing stones in the sea which was very rough due to the strong winds. Inevitably, there were some wet feet!
We then caught the train back to Hythe to purchase some gifts in the shop to remind us of our day.
"I loved finding out more about the trains at the museum" Michael
"I've never been on a steam train before - it was smaller than I thought it was going to be!" Sophia
YLF would like to thank Shepway Community Chest for supporting the funding of this memorable trip.