YLF youngsters enjoyed whizzing around Gillingham Ice Rink last week!
With limited time on the ice, the young people certainly made the most of it - and we even stopped for a spot of lunch and munched on burgers or hot dogs!
There were some individuals who were a little less confident in their skates and the rest of the group patiently helped them. They went from being nervous and holding on to the sides but by the end some were doing all sorts of unique moves - even skating backwards and doing the splits!
"I've loved Ice Skating today, it was the first time I felt I could do it on my own!" said Chloe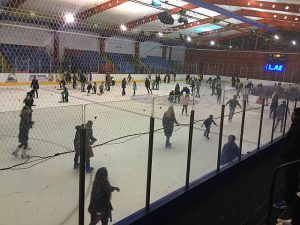 Before we knew it the time on the ice sadly ended, but there were soon conversations about the next activity they would like to do - so it looks like trampolining is a go!
"I always love it when we go Ice Skating with YLF, I don't get to go otherwise!" said Alfie
"I was really pleased I came Ice Skating because I made some new friends. I can't wait to see everyone next time!" said Katie