YLF young people were rather excited to be able to head to Thorpe Park on such a hot day this Wednesday, and all the young people got something new out of the experience too!
"I have learnt to try and be part of a team, I normally only do activities at home on my own" David
"I learnt that it's okay to wait in a queue and be patient, it's worth it for the good rides" Kerry
"I wasn't sure about the rides at Thorpe Park the first time I came here as it was my first experience ever - I felt sick after. But this time I loved it and I got on bigger rides then before, maybe another time for the massive rides though" Ahmed
The young people enjoyed heading off on the rides, and although the queues were long, the young people didn't mind as the sun was shining. They all managed to at least get on the rides they wanted to experience.
After a morning of enjoying the sun and rides including Saw, Swarm, Stealth and No Way Out, it was time to meet back together and refuel with some lunch! Everyone enjoyed having a chat about what rides they had been on and recommended rides to others in the group. In their groups they also planned what were the last rides they wanted to try that afternoon.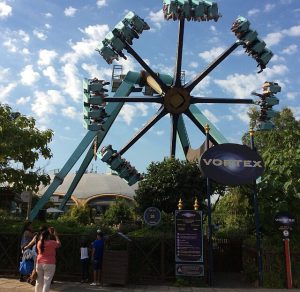 Everyone headed off for their final rides. Lots of extreme thrill rides were lined up and screams of excitement and joy were heard! Saw was most definitely the most popular ride of the day, with some young people noticing their hearing and voices going slightly after all the shouting and screams on the way round!
"Thank you everyone that gives money so that we can experience things like this, we really do appreciate it" Megan
"I loved today and I hope we can go again some time" Michael