YLF Ops Manager, Neil, will brave a stay at the Haunted YLF HQ this Halloween!
This Halloween our Operations Manager, Neil, is raising funds for our Covid Recovery Fund, helping young people recover from the last 18 months of lockdown challenges.
SPONSOR HIM and he will spend Halloween night at YLF Head Quarters in Maidstone, which many of the YLF staff believe to be haunted!! There are frequent loud bangs heard in the building during the daytime, doors seem to open on their own, and the 'I wouldn't dare go down there if I were you' basement light has also switched itself on and off – the place must be haunted!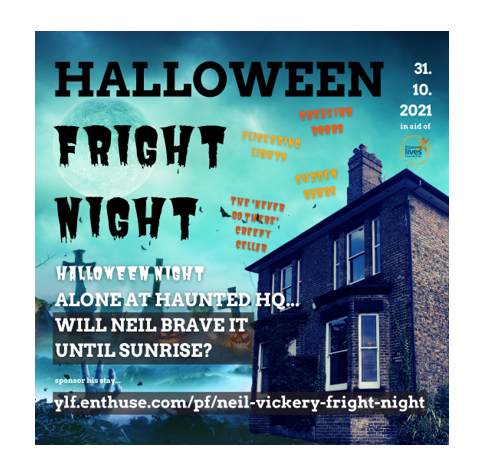 So the plan is for Neil to arrive at the building on Halloween night, 31.10.2021… he will explore each room whilst keeping you all informed via Facebook where YOU can give Neil instructions of where to go, where you want him sleep, and what other experiments you'd like him try!
But he needs your help – the more we raise,  the longer he stays! Mmwwwahahahaha! 👻
Will he brave it until sunrise??
Don't forget to follow us for updates on socials: FB | IG | Twitter