Our newest event, in partnership with Special Olympics Kent, including a golf competition and celebratory dinner!
The Event
YLF is excited to have been selected as a chosen charity for a new and exciting event that comprises of a Golf Competition throughout the day, followed by a celebratory evening dinner with entertainment.
This event is being led in partnership with Special Olympics Kent and 50% of the proceeds will come to YLF to support our Positive Activities Programme.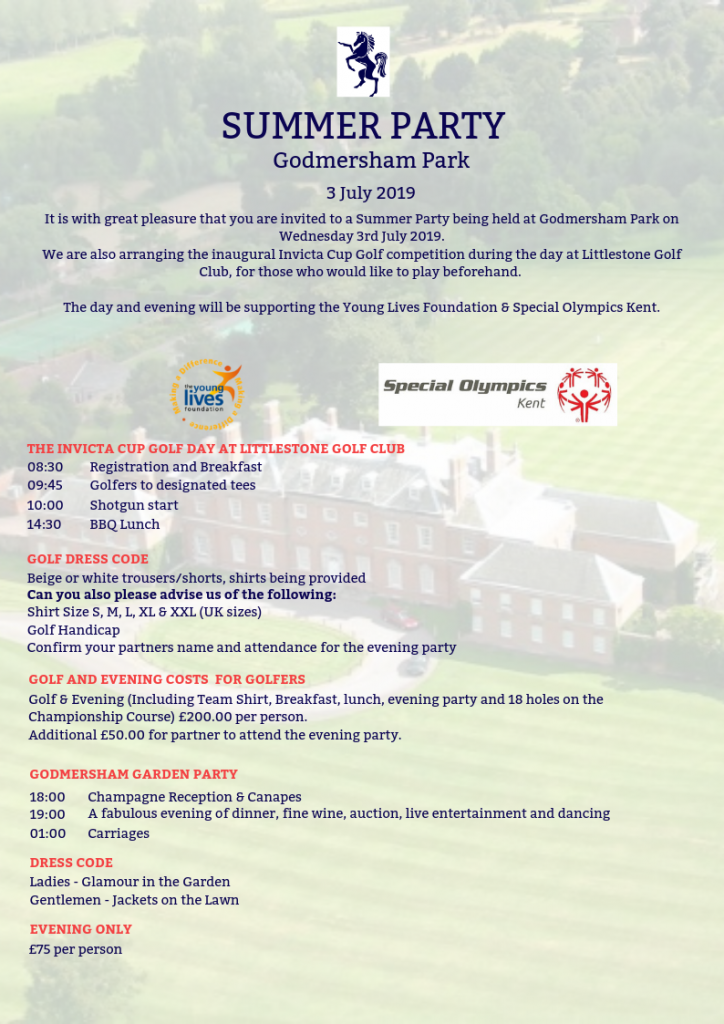 Please see the invite above for details of the event. Please do not hestiate to contact Karen Knight if you need any further assistance or more details about the day. For all golf enquiries, please contact Miles Mackinnon.
Further communication will be sent to all attendees nearer to the time of the event. This will include parking information and Auction details.
Payment for tickets can be completed through Eventbrite here, Cheque or BACS transfer. These options for the Invicta Cup can be found as below. Please make sure any BACS transfers are referenced with the correct code.
Eventbrite: Continue through the site as directed, however it must be noted that a service charge will incur. This is beyond our control and so we advise you to pay via one of the below options.
Cheque: To be made payable to 'The Young Lives Foundation'
BACS Transfer: Account No: 12237458 Sort Code : 40-31-06 (Please quote Reference 'InvictaCup19')
We look forward to welcoming you to what is going to be a very memorable event in support of two incredible charities.