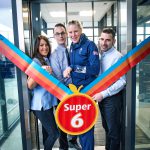 We were very excited to receive an invite from Aldi to be involved in the opening of their new store on the Langley Park estate near Maidstone. Stephen Gray, CEO and Karen Knight from YLF went along on a cold autumn morning to be greeted by the wonderful staff and management at the store, together with hot refreshments and bacon butties for all to enjoy!
Katie the Carrot, from Aldi's latest Christmas advert, was on hand with fresh mince pies for all the
customers. 
Frances Houghton, Olympic Silver Medalist who took part in the Rio 2016 games as part of the Great Britain rowing team, also came along.
The queue was growing with over 70 customers waiting to see the new store.  Christmas crackers were given out with one containing a £100 voucher which one lucky couple won!
The countdown began and store was declared open!
We are so grateful to Aldi for the invite and for the amazing donation of goods they gave us on the morning.  Many of the items, which included footballs and other sports equipment, will be used by our Positive Activities team where young people can take part in confidence building activities.
Thank you to all the staff and management at the Aldi Store, Langley Park!