10 Year Celebration Dinner | Allington Castle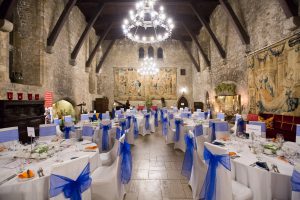 Allington Castle was the perfect setting to celebrate the 10th Anniversary of the Young Lives Foundation.   We are very grateful to Sir Robert and Lady Worcester for their generosity in allowing Allington Castle to be the prestigious venue for such an important evening.
Eleanor Hayward, a student at Invicta Grammar School and a members of MYMS, played the harp whilst guests enjoyed a drinks reception before sitting down to a three course dinner in the Grand Hall.
Stephen Gray, CEO of YLF outlined the challenges that face vulnerable young children and troubled families in the County and the steps and ambitions of the charity to increase support in all areas during the next decade.
The Families and Children's Minister, Mr Robert Goodwill MP, spoke of the initiatives of the Government to address many of the problems faced by young people leaving care and those without birth family help, including the many unaccompanied young people arriving in the Country.
Leader of KCC, Paul Carter CBE, proposed a toast to YLF and stressed the importance of the charity with its dedicated team and 200 volunteers giving countless hours to enrich the lives of the less fortunate and the value it brings to helping KCC deliver the vital services in the County, for which it received "outstanding" in a recent Ofsted report.
President of YLF, Clive Emson, was master of ceremonies and conducted the auction and prize draw ably assisted by YLF Ambassador, Harry Reid (probably better known as one of the Mitchell family in EastEnders).
We are grateful
to all our guests for supporting the evening which raised in excess of £10,000.  This will go a long way in helping us to continue to provide the critical support to the young people we help in Kent.