There have been several fantastic achievements made by young people who have recently been awarded ASDAN certificates from YLF. These awards are something to be celebrated, offering young people the opportunity to engage in informal education and even head towards achieving a qualification!
Folkestone and Shepway Schools Mentoring Service
We have been celebrating ASDAN achievements recently with a spot of pottery painting at Folkestone's Mud Pie Pottery.
Six youngsters from the Folkestone Academy Secondary and three from Castle Hill Primary School, painted bowls and mugs as a reward for all their hard work and commitment to the mentoring sessions and working towards their ASDANs.
Their ASDAN choices were in diverse subjects, reflecting their individual interests, such as Animal Care, Personal Development, Expressive Arts and Football. Others completed a Stepping Stones ASDAN and completed varied and exciting projects in the history of steam trains in Kent, fabric bunting making, and card making.
The young people have worked extremely hard alongside their volunteer mentors, Pippa and Sara. YLF's CEO, Stephen Gray, presented the young people with their certificates, and a lovely time was had by all. A huge well done to all these young people! A brilliant achievement!
Activity funding with support from Shepway Community Chest
Tonbridge and Malling Mentoring Service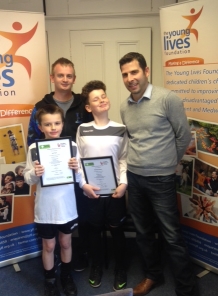 Two keen young lads receiving community mentoring support from volunteer Matthew asked if they could take part in a first aid course. In addition to recently being awarded ASDAN certificates in Football and a visit to Maidstone United Football Club, the lads also wanted a new challenge, so Matthew signed them up to a First Aid course with NIS Training and Development.
The course wasn't easy, but both lads passed with flying colours! On a recent visit to the YLF office, they were happy to practise their new skills in first aid on the staff!
Stephen Gray presented certificates and the team congratulated them on their fantastic achievements! Well done!
Activity funding with support from Donald Forrester
---
Mentoring is incredibly rewarding, and fun...
If you can spare some time to make a huge difference as a mentor and live in the Shepway area or Tonbridge and surrounding areas, we would love to hear from you!
Please contact YLF on 01622 693459. Visit our mentoring volunteer pages on our website for more info or head straight HERE to complete an online application form today!