Ben Towers becomes Ambassador!
YLF's team of Ambassadors is growing... let us introduce you to Ben Towers!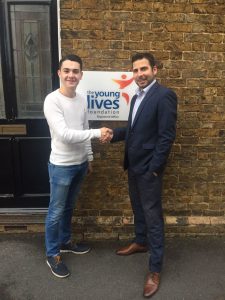 Ben Towers is one of 'the most influential entrepreneurs on the planet' whilst still only being 20 years old. Ben started in business aged 11 and has since successfully exited his marketing agency, invested in disruptive start-ups and inspired millions. Ben is now on a mission to change the health outcomes of his generation.
We welcomed Ben to YLF HQ recently, giving us the opportunity to introduce him to the team and officially announce that he will become a YLF Ambassador. We spoke about how Ben could get involved and support the work of YLF, although being a fan of the charity prior to his new role, Ben has already given up his time, been sharing his ideas, and spreading the good word about the charity, so we know he will be a great ambassador and support to the team!
Thank you Ben, and we look forward to working with you!