BRAND NEW Mentoring Service!
YLF is excited to announce the launch of its BRAND NEW Care Leaver Mentoring Service!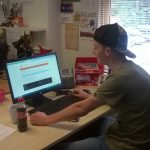 This week is National Care Leavers Week #NCLW2018 and we couldn't have timed it better to launch our new mentoring programme especially for care leavers.
Why have a mentoring service for care leavers?
Many young people face numerous challenges when they transition out of care and can find it difficult to cope with living alone. They may face financial challenges, relationship difficulties, low self-esteem and confidence, difficulties in finding work, and many more. A Care Leaving Mentor can motivate and assist a care leaver, help develop confidence and skills required to live independently, and if requested, can advocate on their behalf at meetings or appointments.
"My mentor stood by me through the transition of leaving care, helped me move into my new accommodation and always had an ear to listen."
"Without my mentor and YLF's support, I don't think I would have completed my apprenticeship."
Read more about Care Leaver Mentoring here
Read what Dan had to say when he received YLF's support here
Read about the difference Karleigh's mentor made to her here
How can you help?
Spread the word and share our news! Being a mentor for a care leaver is a rewarding role with the opportunity to make a real difference to a young persons life and help them to have a brighter future...
Why not take up the role and volunteer for us!
As a mentor, you will be working with a care leaver who has been referred to us by their Personal Advisor because they would benefit from having extra support during their transition out of care and into independence. You will work together over a period of 6 to 9 months towards achievable goals such as basic cooking, budgeting or CV writing, meeting at a frequency that suits you both.
If you could volunteer as a Care Leaving Mentor, visit our volunteering pages here
---
If you're a care leaver, click here to read the Your_Care_Leaving_Mentor_Leaflet
If you are a care leaver interested in having a mentor, you can refer yourself for mentoring by heading to our Refer a Young Person page here, call us on 01622 693459, or speak to your Personal Advisor.
This service is currently only available to those leaving the care of Medway's Children Services but YLF hope to expand the service throughout Kent very soon!
If you would like any further information please call us on 01622 693459 or email us at enquiries@ylf.org.uk, we will be happy to help!