At the weekend, a group of young people headed to the Ashford Bowling Centre for a couple of games and some lunch.   
Some of the young people had been ten pin bowling before and were excited to show their skills, others had never been but were equally excited to try the activity for the first time.
After the all important food and drink order had been made, the young people grouped into two teams, those more experienced players explaining the game to others.
" The best thing about the activity was that I learnt to bowl!" Fran
With names on the score boards, the games commenced! A strike was bowled immediately by one young person!
" I got 3 strikes in the match!" Aaron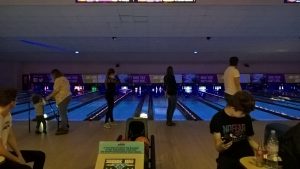 After the first game, everybody chatted about the activity whilst they ate their lunch; pizza, burgers, hot dogs and chips and then quickly set up for the second game. "I won the game!" Sam
With the bowling activity finished, the young people headed home. It had been an enjoyable time for all!
"I really enjoyed meeting up with new people". Max