During the February half term over 30 young people enjoyed a variety of trips: Chislehurst Caves, Ice Skating and Climbing!
Chislehurst Caves
The week started off with an amazing trip to Chislehurst Caves! Our candlelit guided tour took us deep underground where we heard stories of the past and we were able to experience what it would have been like to live down there during all the different wars over the years…
After the tour we had a look at all of the photos of famous rock stars who have performed in the caves and then we had lunch whilst chatting with friends about our favourite part of the tour.
"It was interesting to see how people lived and learn about World War 2". Chloe
 "It was so funny when we had to crouch down to get through under the really low ceiling". Sophie
"The caves were really cool. I loved it when they took all the lights away and we were left in total darkness which was scary but then using sound, they recreated what it was like to be in the caves during a bombing raid in the dark". Emma
Ice Skating
On Wednesday a group of excited young people met at the Ice bowl in Gillingham. They quickly got their boots on and were keen to get straight on to the ice for a bit of skating! Those who hadn't been on the ice before were helped and encouraged by those more experienced. All young people quickly gained confidence, whizzing around the ice, showing off their skills and even skating backwards! After skating, the group enjoyed a well-earned lunch and chatted excitedly about their time on the ice.
"Today I learnt how to skate. Now I can tell all my friends when I go back to school next week". Seb
"I really enjoyed trying this activity for the first time. I was a bit scared of falling over on the ice at first but once I got my balance it was really easy and great fun". Fred
Climbing
On Thursday, a group of young people headed to Broadstairs for our last activity of the week – a climbing adventure! With their climbing hats on and their ropes at the ready, young people tried bouldering and climbing, pushing themselves to their limits by going a little bit higher each time.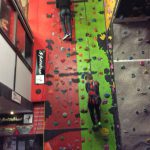 Some young people even challenged themselves to see how long they could hold onto a rock and hang for, with 10 seconds being a record!
After the young people had a rest and a chance to fill up on pizza, cake and squash, they were keen to get back to have another climb before heading home.
"I have never done an activity with YLF before, I really enjoyed it, climbing was scary at first but then you get used to it. The people were really nice to talk to too!" Samantha
"I love climbing! I really hope we can do it again soon!" Aaron
A big thank you to everyone who has donated or provided funding to enable us to provide young people with these amazing experiences!