Commitment to Care Leavers
YLF has been accepted as a 'Signatory Member' of the National Care Leavers Covenant.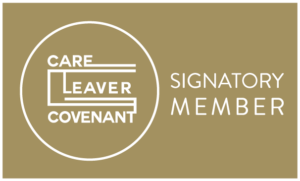 As a 'Signatory Member' of the National Care Leavers Covenant, we are committed to supporting care experienced people with employment opportunities, volunteering, work experience and support from our volunteer mentors. This has been officially endorsed and approved by the Covenant!
We have signed up to the Care Leaver Covenant as we are committed to ensuring care experienced people are given opportunities to flourish by:
Employing at least two care experienced apprentices in the coming 12 months
Advertising all paid and voluntary roles to care leavers via local authority care leavers teams
Include a statement online and on application forms stating we welcome applicants from care experienced people
Continue to offer work experience opportunities
Continue applying for hardship grants for care experienced people to support their education, employment opportunities (£4,000 granted in 2022 so far)
Provide volunteer mentors from the community to support care leavers with life skill development, reduce isolation and sustain tenancies
Watch our language – make sure we use appropriate language, both written and verbal to avoid unconscious stigma
YLF's offer is now published on the CL Covenant website – check it out!
"I don't know where I would be if I hadn't had my Leaving Care Mentor for the past year. I feel so proud of how far I have come." – Care Leaver receiving support from the YLF Leaving Care team