Comedy Night with Lonestar - Friday 2nd December 2022
Comedy Night with Lonestar
YLF's Comedy Night featuring a fab line up from Lonestar is back! You do not want to miss it!
We are hosting our comedy night with added sparkle at Bearsted Golf Club, Maidstone, ME14 4PQ from 7pm 'til late. There will be a selection of canapes for you to indulge in included in your ticket price, and the bar will be open for the duration of the evening.
So gather your friends, your family or your coworkers and join us for an evening that's sure to entertain you once again!
LINE UP – Wilson Milton, Arthur Smith and Otiz Cannelloni s will be taking to the stage! More info about our comedians below ⬇
---
Ticket Price £25pp – Over 16's Only
---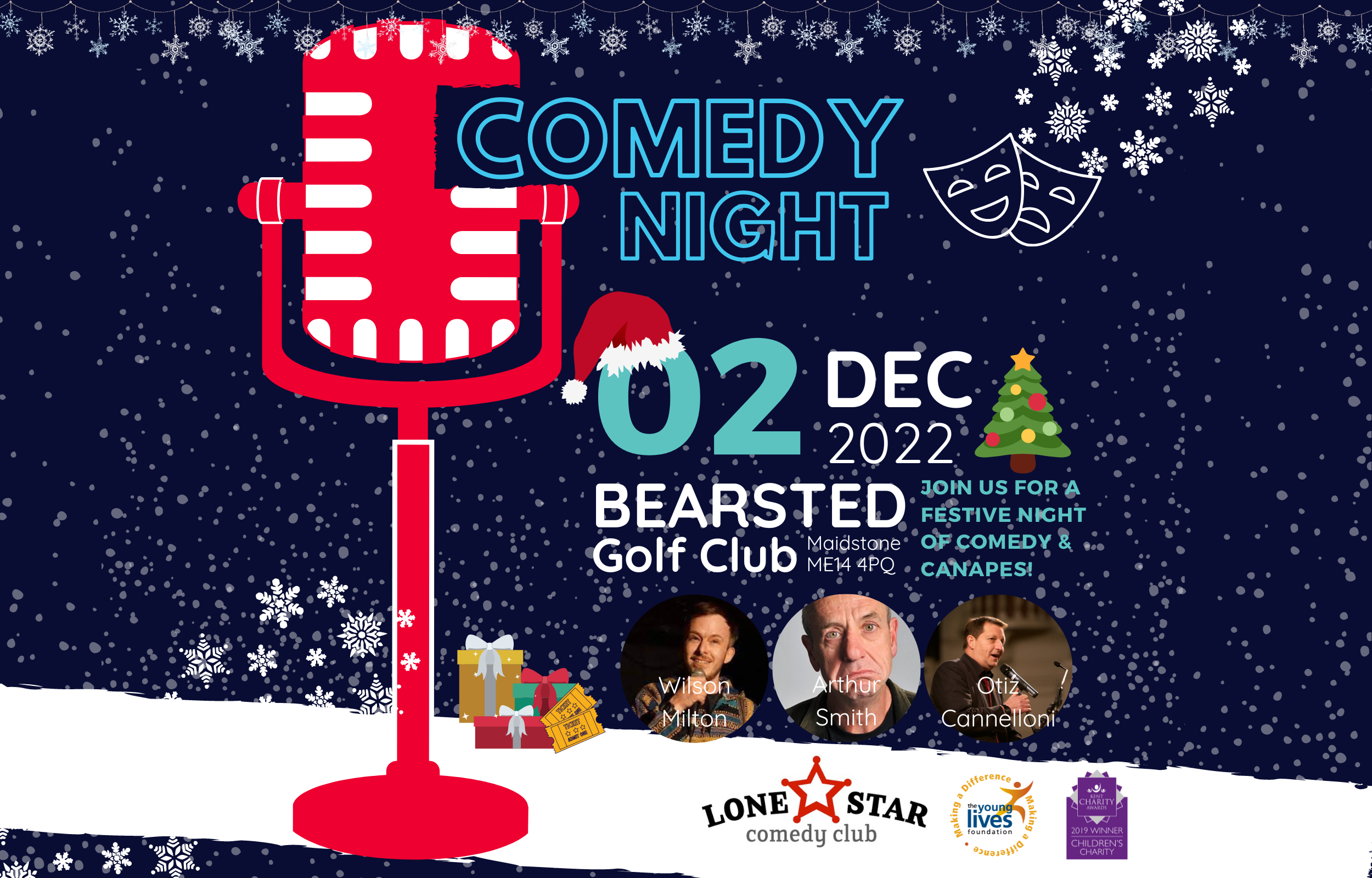 Line Up
Otiz Cannelloni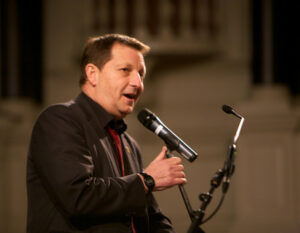 Otiz Cannelloni combines the illusion of magic and the wit of stand up to produce a hybrid comic creation. With a mind more suited to testing crash helmets, his performance fluctuates between sheer genius and downright stupidity. Just when you suspect he doesn't have a clue, Cannelloni removes all doubt.
When this man is on stage the dressing room empties, as the rest of the comics rush to watch and learn from his mistakes. It's taken years of practice to make something so simple look so difficult.
Testimonials:
"Master of Mirth and Minimalist Magic …Delightful." – Time Out
"A magical Wag. Bewitching." – The Guardian
"Sheer hilarity that clearly no one wanted to see end." – The Stage
---
Wilson Milton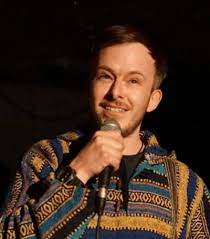 Wilson burst on to the stand up comedy scene in November 2011, quickly getting to the final of the 'max Turner prize' in just his fourth gig. First coming across as a cheeky chappie, it doesn't take long to realise that Wilson has a lot more strings to his bow.
A mixture of sharp observations, pinpoint accents and curveball one liners that suit all types of audiences.
Testimonials:
"Smart, charismatic and a huge hit with audiences at up the creek. Wilson is fast becoming a great name to watch out for" – Up the Creek Comedy Club
"Awesome, a real undiscovered gem in this new comedy landscape" – Tom Stade
---
Arthur Smith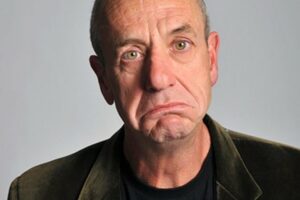 …is a bit of a star…
Comedian, Presenter, Actor, Writer (and Night Mayor of Balham – self appointed), Arthur is one of the much admired originals of the great British alternative comedy scene. Arthur has a consistently brilliant talent and ability to provide light entertainment whilst also still finding new and interesting ways to make people laugh. It is no surprise, therefore, that he remains a sought after artist by Comedy Clubs, Theatres, Festivals and Private Events and is regularly seen and heard on Television and Radio.
Credits:
TV:
Grumpy Old Men (BBC)

QI (BBC)

Have I Got News For You (BBC)

They Think Its All Over (BBC)

Never Mind The Buzzcocks (BBC)

People Just Do Nothing (BBC)

Red Dwarf (BBC)

Filthy Rich & Catflap (BBC)

Girls On Top (ITV)

Pyjamarama (ITV)

Arthur and Phil Go Off (Channel 4)

Room 101 (BBC)

The One Show (BBC)

Are You Being Served (BBC – 2016)

Celebrity University Challenge (BBC)

Pointless Celebrities (BBC)

Celebrity The Chase (ITV)

Mastermind (BBC)

Newsnight (BBC)

Clive Anderson Talks Back (Channel 4)

Countdown (Channel 4)

Just A Minute (BBC)

Whose Line Is It Anyway (Channel 4)

Married (BBC)

Nightcap (BBC)

Ident (Short – Aardman Animations – Voice)

Rex The Runt (Animation – Voice)

The Animal Train (Animation – Voice)

Romuald The Reindeer (Animation – Voice)

Life of Grime (BBC – Voice)

Money For Nothing (BBC – Voice)
Radio:
Loose Ends (BBC Radio 4)

The Comedy Club Interviews (BBC Radio 4 Extra)

Arthur Smith's Balham Bash (BBC Radio 4)

Arthur Smith's Last Hangover (BBC Radio 4 Extra)

Smith Lectures (BBC Radio 2)

Excess Baggage (BBC Radio 4)

Arthur Smith Sings Leonard Cohen (BBC Radio 4 Extra)

Arthur Smith Sings Leonard Cohen, Again (BBC Radio 4 Extra)

Saturday Live (BBC Radio 4)

Midweek (BBC Radio 4)
Writing:
100 Things I Meant To Tell You (book – publish date autumn 2019) · – My Name is Daphne Fairfax (autobiography)

An Evening with Gary Lineker (with Chris England – Olivier nominated stage play & TV Movie)

Live Bed Show (Stage)

My Summer With Des (TV Movie)

Sit-Down Comedy (contributor – published 2003)

Hello Mum (TV)

Arthur and Phil Go Off (TV)

Josie (TV)

Ident (Short – Aardman Animations (additional material)

Hallmark Cards
Solo Shows:
SYD

Arthur Smith's Swan Lake

Arthur Smith: That Which Is Not Said

Arthur Smith: ARTURART

Arthur Smith's Public Lecture: 'The Toilet Role of Arturart in the History of Western Representation

Arthur Smith: Edinburgh Book Festival

Aaaaaaaargh! Malcolm Hardee Documentary Preview

Arthur Smith In A Cobbled Up Shambels

Arthur Smith's Edinburgh Bash

Arthur Smith's Pissed-Up Chat Show

Heroes of Alternative Fringe

This Arthur's Seat Gala Belongs To Lionel Richie

Arthur Smith Sings Leonard Cohen Volume Too

Arthur Smith Sings Leonard Cohen (Vol. 2)

Arthur Smith – Mindlessness: A Beginner's Guide

Arthur Smith Sings Leonard Cohen – The Final Tribute

Arthur Smith: Syd

Arthur Smith At Your Service

Arthur Smith Exposed

Audience With Arthur Smith
Awards:
Olivier Award – nominated for Best New Comedy (playwright)

Edinburgh Festival Panel Prize

Spirit of The Fringe Award (Edinburgh Festival)

Malcolm Hardy's Cunning Stunt Award (Edinburgh Festival)

Bath Plug Award – recognising significant achievement in comedy (Bath Festival)

Award For Excellence 2019 – Brighton Fringe (SYD show – shortlisted)
Testimonials:
"Smith stands out among his generation for a willingness to keep pushing himself and experimenting with the new forms of comedic expression… Today's hottest young comics still see him as an inspiration – Guardian
" ***** – On form again with his charmingly laconic blend of aphorisms, wry one-liners, poetry, audience participation and more – a cordial man of the world holding court." – Chortle