Brave fundraiser Elliott reaches new heights for YLF raising thousands!
Brave Elliott Sinden from Upchurch Kent, walked along the wings of a 1942 Boeing Stearman Biplane while it was in flight as he became the very first Wing Walker for The Young Lives Foundation!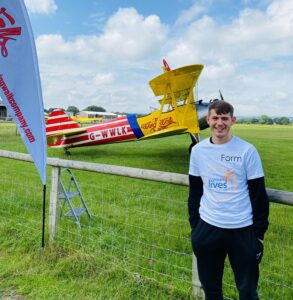 Reaching heights of 700ft, the twenty-one-year-old took to the skies on his daredevil challenge in an aircraft flown by a highly experienced wing walking display pilot from The Wing Walk Company at Headcorn Aerodrome. He was safely strapped onto the top wing to experience the exciting series of swoops, loops and dives at speeds of over 100mph, in front of his family, work colleagues and staff from YLF.
Elliott was keen to do the challenge when government restrictions were eased because YLF had missed out on so many potential fundraising opportunities due to the coronavirus pandemic. He said:
"2020 was a tough year for everyone. We all missed out on so much and it certainly has put a lot into perspective for me. Now that the end is in sight, I decided there was no better way to come out of lockdown than to fly out! The wing walk is to raise funds for the fantastic youth charity, Young Lives Foundation!"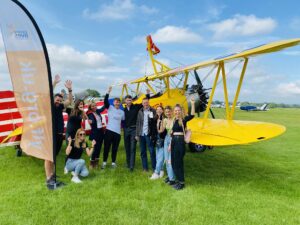 Discussing his challenge with his work colleagues at Form, inspired the fit out and refurbishment contractor to support YLF. The Kent based company pledged to double the amount that Elliott fundraised! Steve Potter, CEO & Founder of Form, said:
"Elliott's exciting plan to raise funds for the Young Lives Foundation really captured our attention. At Form, we take our corporate social responsibility very seriously. Once we found out more about this incredible charity, which helps so many young people in their time of need, we just had to pitch in. We've pledged to match his donations and are absolutely delighted to be involved. We really hope our partnership with YLF continues long into the future."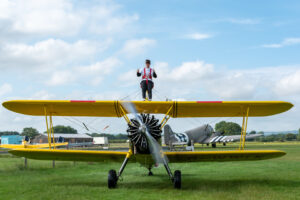 Elliott's network of supporters were excited by the brave challenge and have raised a fantastic £2,010,62. Doubled by Form, the grand total for YLF is a huge £4,021.25.
The fundraised monies will go directly towards supporting the mental health and wellbeing of our children aged 10-16 who have suffered from the consquences of covid this year by offering them mentoring support programmes.
After the event, Elliott recalls his experience saying:
"What an unbelievable day! It was an amazing experience, and I can't believe how much fun I had. What made it even better is that we have managed to raise so much money for the Young Lives Foundation. It was brilliant to see them at the wing walk and spend the afternoon with the team. They really are a great bunch of guys."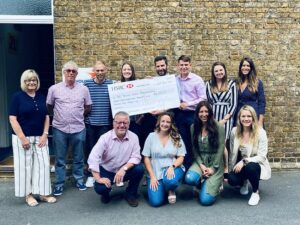 Our Fundraising Manager Karen was at the event and able to personally thank Elliott for his inspiring support. She said:
"A huge thank you to Elliott who braved the skies all for YLF. It is has been great to get to know him and his colleagues at FormFitOut. Not only has Elliott raised an incredible amount for the charity, but the company also have match funded his total. The money raised is going to have a huge impact on the work the charity does in supporting young people in Kent and Medway. It will be going towards supporting young people through our mentoring programme and we are looking forward to feeding back to Elliott and his colleagues of how this has had a positive impact."
Elliott attended our HQ offices to be formally thanked and presented with a certificate and thank you gift with Form CEO & Founder, Steve Potter. (Full photo album on Flickr here)