Con-grad-ulations to young person Justin who has become our first ever YLF Legends Programme graduate!
It was a pleasure to hold our first ever Graduation Ceremony for Justin who has graduated from our YLF Legends Programme with flying colours.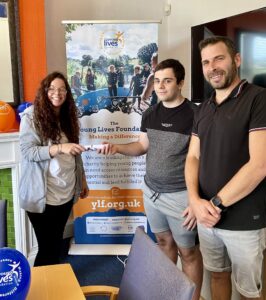 Justin from Maidstone joined the YLF activity groups eleven years ago. Over the years he has learnt new skills and developed in confidence, taking part in trips away, day adventures and even a visit to Parliament – all thanks to our wonderful donors and supporters. As a resilient 18 year old, he is now embarking on a new journey and moving to Yorkshire with the ambition of purchasing his first dream car and getting a new job in Digital Marketing!
A celebratory send-off was held at our Maidstone office where Justin was presented with a graduation scroll, a leaving card with messages from young people, and a hamper that included treats, gadgets and gift cards.
Legends Manager Lucy delivered a speech that recalled:
"You have been a part of YLF longer than I have. The first time I met you, we were on our way to Legoland, and Charlotte (previous YLF staff member) had stalled the minibus quite a few times – you took great delight in winding her up about it, and I am sure to this day she will remember this too!
From the first trip out to the last residential you have done with us I have seen you grow from a sweet and slightly cheeky lad into a fine young man! You have grown in confidence and I admire you for making a tough decision to move away in order to achieve your dreams. You will be missed."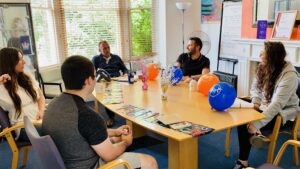 Our team took a final walk around the building with Justin, captured some new photos and reflected on the old memories we have together. He laughed lots whist reminiscing on events and activities with past and present staff members over the years. When asked what his first memory was of YLF, Justin said:
"I have been a part of YLF now for 11 years and I think one of my first memories was a trip to Parliament over 8 years ago, the same year as my first overnight residential."
Justin then showed us a photo he still has of him at Parliament from over 8 years ago showing how special this memory is to him. We also asked him what he will miss most about Maidstone, and he simply said:
"I will miss YLF the most. You have always been there for me".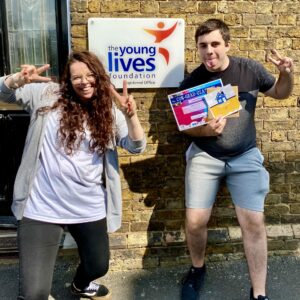 His new adventure is an exciting one, and Justin says:
"I am really excited to get a traineeship opportunity in Digital Marketing in Yorkshire. There are a lot more opportunities for me up there and I will be living with my sister there – the pace of life is calmer and more relaxed. Also I want to save up to buy my dream car which is a 1974 Mini!"
We are so proud of the young man Justin has become and wish him all the best with his move and his exciting future – we will miss you Justin!