GOING LIVE with Matthew Scott, Kent Police and Crime Commissioner
Hopefully you will have seen YLF's first ever live broadcast!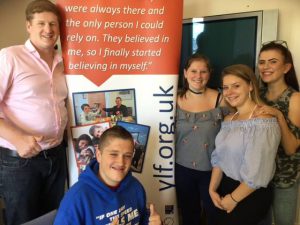 Kent's Police and Crime Commissioner, Matthew Scott, joined a panel of young people supported by YLF for a question and answer session which was broadcast live on his Facebook page last week.  If you missed it you can watch it here.  We were incredibly proud of comments made by Karleigh, Dean, Ellesse and Chloe and their insightful comments, responses and questions in relation to issues affecting young people across the county.
Please do make time to watch the broadcast (it's 24 minutes long) as the young people made some really interesting points and also spoke very highly of YLF.  Below are a couple of quotes:
"I don't have a favourite memory of a time with YLF as it's all good.  The charity has changed my life and this will be my memory - the times they changed my life"
"I changed from a really shy person into a bubbly one and now I can help other children do the same thing"
"It's given me a voice and a chance for a new life"
"They helped me be confident and build self-esteem and we all help each other - like a family"
"The charity is amazing, fun, outgoing, help you believe in yourself, they never give up on anyone, they persevere with you - they are like a family"