Hampers for a Happy Christmas
YLF is delighted to be able to make Christmas extra special for some of our care leavers, by hand delivering hampers to them!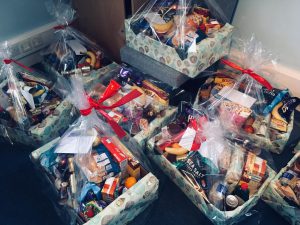 Generous supporters have offered such exceptional donations this year that have allowed us to be able to help our care leavers this Christmas. We were able to buy items such as food and toiletries to ensure that those we support who are living independently do not struggle with essentials over the Christmas period.
The donations even stretched to allow us to include a £25 gift voucher. In addition, with thanks to Heart FM and the Giving Tree at Bluewater, there was a little present for each of them ready to open on Christmas Day.
Also knowing that travel can be difficult for these young adults, YLF staff loaded their sleighs (cars!) and hand delivered them to their doors! Here are their reactions to their surprise hampers...
Simone was shocked when she saw the size of the hamper. She just went "Wow."
Daniel was really grateful as he is struggling at the moment and really appreciated the gift and said "The voucher will be a life saver this Christmas."
Dan also appreciated the hamper as he is struggling with money issues and this will be a massive help over Christmas. He said, "I am looking forward to cooking something from the hamper."
Dean really loved the hamper. His face lit up when he saw it and couldn't wait to open it up. He also thought it was a really generous gift.
We are incredibly grateful to all our supporters, including Hunker Down Daisy Florists, and all those that have helped us to make this possible.