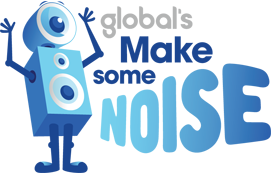 Haven't you heard?? It's MAKE SOME NOISE day! And YLF have been featured on Heart FM ALL DAY!
YLF have been biking, making and faking some noise this week as part of Global and Heart's MAKE SOME NOISE campaign!
YLF will be one of the charities benefiting from the fundraising campaign and have been joining in with some fun activities to raise money and awareness. So far a staggering £791,000 has been raised!!
Today, Tiff from our Challengers activity group, ventured to London and took part in 'Bike Some Noise' with celebrities supporting the campaign such as Emma Bunton, Olly Murs, Jenni Falconer and even Torvil and Dean!  Tiff has not only contributed to the 874 mile static bike ride on the roof of Global's HQ but has also been fundraising!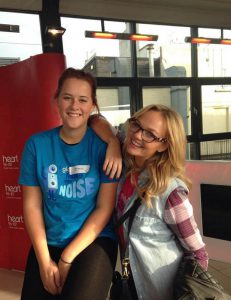 Tiff said, "It's been so exciting here today; the best bit has definitely been meeting the celebs!"
Go Tiff!! YLF are extremely proud of your hard work and achievement! View Tiff's fundraising page here 
Not only that....On Tuesday YLF took on the 'Fake Some Noise' challenge. They dressed in their loudest brightest clothes and 'faked' Bjork's 'Oh So Quiet'. Read more and watch the video here!
On Wednesday night we joined James Heming from Heart FM for 'Stand Up And Make Some Noise!' - a huge night of comedy at Margate Winter Gardens with a host of comedians including Zoe Lyons and
Bob Mills. There were over 300 people at the event and 100% of ticket sales go towards Make Some Noise!
Check out YLF's Twitter and Facebook pages too for lots more photos!
See what Heart FM have been up to on today's' Make Some Noise Day.
You can make a difference right now by texting NOISE to 70070 to donate £5 to Global's Make Some Noise.