Project Kent | The Big Reveal!
YLF celebrated the official opening of our newly revamped offices following weeks of hard work by the volunteers of Project Kent.
The work that Project Kent carried out included stripping walls, plastering, cleaning, decorating, painting and many other tasks that the kmfm and Kent Reliance volunteers worked tirelessly together to transform our offices into a vibrant and welcoming community space that is a pleasure for our young people and volunteers to visit.
Project Kent came to an end after a few weeks but the job didn't end there for the YLF team - we continued to put the finishing touches to the offices and invited Project Kent and all those who played a part in the revamp from kmfm and Kent Reliance, back to launch our big reveal!
Speaking at the launch, Andy Golding, CEO OneSavings Bank said,
"I am extremely proud of the job our staff has done. The office transformation has been incredible and it's a great example of people coming together to help a community project achieve something they wouldn't have the time to do on their own as their priority is looking after the young people who desperately need their help. In fact the team here told me that they had been trying to paint their offices for nearly two years."
"I would encourage anyone who is interested in making a difference to young people in the county to make contact with the YLF. They have a range of volunteering and mentoring opportunities available and they wouldn't be able to help as many young people as they do without the passionate support of their volunteers."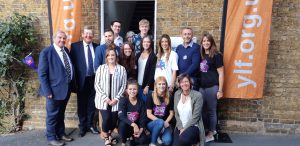 We are incredibly honored to have received the support of Project Kent and it was a pleasure inviting the project volunteers back to see the changes we made. We would like to thank each and everyone of you for your time and dedication.
Geoffrey Dearing, YLF Chairman said, "The difference Project Kent has made to our Maidstone Hub is clear to see. The rooms look bright, fresh and an area all can be proud of. Our staff, volunteers and more importantly the young people can now work in a vibrant environment which matches YLF's ethos and style."
"In addition the exposure the charity has been afforded by being part of Project Kent has brought more volunteer applications, funding opportunities and partnerships so we truly are winners of Project Kent - thank you to everyone involved."
Take a look at our newly revamped space...