Last week, the Young Lives Foundation hosted its first Charity Comedy Night alongside Lone Star Comedy Club.
With a line up of top Stand-Up Comedians including Russell Hicks, Stefano Paolini and Mark Simmons, the comedy night had our audience of over 90 people in stitches of laughter. From impersonations to totally improvised jokes based entirely on the audiences' interaction, the night was a huge success!
A grand total of £2,000 was raised on the night from ticket sales, beverages and a prize draw, allowing YLF to be able to provide more opportunities for young people to engage in on our Positive Activities Programme.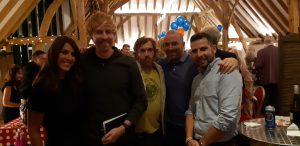 The delightful Penstock Barn in East Brabourne was donated to us by George and Vikki Jessel and was the perfect venue to host from. We would like to thank Lone Star Comedy Club for providing the fantastic line up of comedians, Em's Kitchen for delicious canapes, our wonderful volunteers who helped welcome and serve, Clive Emson for presenting the prize draw, and also a huge thank you to our generous supporters for donating the prizes for our draw. Thank you to all who came along on the night to support the charity, it was a fantastic turnout and we are grateful to you all for making a difference.