YLF is pleased to announce that we have appointed a new young apprentice!
John has joined the team and will work full time as our new Participation Apprentice, working alongside the Medway Children and Young People Council (formally the Children in Care Council) and representing the numerous young people we work with.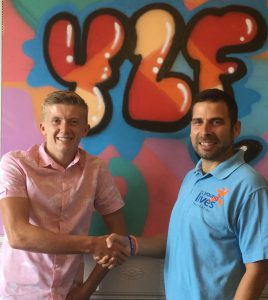 In his role, John will help young people to take part and contribute in services provided by YLF, making sure the voices of children and young people are heard and respected across all departments. He will also complete an NVQ Level 2 during the year placement.
John, a YLF service user himself, will be taking over the role currently being carried out by apprentice, Karleigh. Karleigh will be supporting and training John until her final week here at the office which will not only help to enhance Karleigh's skills in preparation for a new workplace, but will also ensure John is confident in the role he will undertake.
John says, "I have been a member with YLF for about 3 years so I'm excited to now be a part of the staff team. My goal while being the Participation Apprentice is to represent every young person, and get their opinions and views across. It's important to improve services and support for young people and care leavers. I feel like I'm going to make a difference, and I want to help young people with whatever they need help with. My journey will be exciting and challenging but I'm willing to give it my all with the help of YLF."
John is already showing great potential in his first few days with us. We are also really impressed with how well Karleigh is supporting John in this transition, demonstrating just how much she has grown in self confidence and how knowledgeable she has become over the last two years. We look forward to some exciting changes the year will bring!
With thanks to funding from the Cobtree Charity Trust.