Representing Children in Care
On 3rd October, our Children in Care Council (CiCC) members gave an emotive and powerful presentation to Medway Area 1 Managers.
Karleigh and Paddy, YLF's Apprentices and CiCC members, were invited to attend the Area 1 Managers Meeting to give a presentation after attending Medway's Partnership Event last week where the managers of the Area 1 team were especially interested in the work CiCC and YLF do.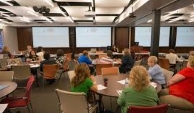 The CiCC reps planned to deliver a powerful presentation to not only express their views as care leavers but to also feedback about how looked after children and care leavers felt being in care, and to inform them of YLF's services.
Karleigh recalls, "At the meeting, YLF's 'Stigma' film was played, and the expressions of the social workers changed when they heard how children in care really felt, coming to a realisation of what needs to be changed. One team member watched the film and felt the emotion that the young people in the video were sending across. When it ended, there was a gasp of sudden truth."
[caption id="attachment_4396" align="alignright" width="300"]
Stigma | The short film from Medways CiCC[/caption]
The managers also recognised that some children find it easier to confide in their mentors and independent visitors (services run by YLF), rather than their social workers - highlighting that consistency from people is hugely important in children's lives.
Karleigh and Paddy then carried out an exercise with the team that demonstrated how important confidentiality is and how it feels when other people know all your secrets. One team member stated that she felt "really uncomfortable", when putting herself in the shoes of a young person in care and this was really important for her practice going forward.
Iva, Area 1 Team Manager, stated, "Thank you for attending and for talking to us about the role of the Children in Care Council and for the powerful presentation. I left feeling deeply moved and I cannot remember the last time I cried when I watched a presentation."
Karleigh hopes to continue working closely with the Area Managers to improve the practice of social workers as part of her ongoing Apprenticeship with YLF.