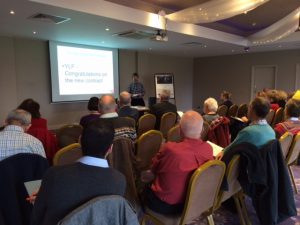 What a fantastic turn out of YLF volunteers at our annual Appropriate Adult Seminar last week!
A presentation was given by YLF on the positive upcoming changes to the Appropriate Adult (AA) Service and also an array of guest speakers were welcomed from Kent County Council, Kent Police and partner agencies. The presence of such professional speakers made the event both informative and enjoyable.
Huge thanks were given to all Appropriate Adults for the time and dedication they give supporting children and vulnerable adults in police custody. YLF also gave special thanks to Chris Barmby who will be retiring from his volunteering role. Chris was awarded a Certificate of Recognition from Kent Police and a beautifully engraved award from YLF.
Stephen Gray, CEO YLF, was delighted to announce the Appropriate Adult contract had been awarded to YLF for a further 3-5 years, he said, "The wealth of experience and dedication by the team and the fact you give above and beyond the minimum requirements of the role is recognised by all.  The quality of our front line 'appropriate Appropriate Adults' is clear for all to see"
Also...
YLF's Children in Care Council (CiCC) Apprentice, Paddy, visited the Houses of Parliament in London to attend The Who Cares Trust event on the support available to those leaving the care system. A useful insight for Paddy who will share this info with the CiCC.

Challengers group held a special goodbye activity for group leader, Holly. The group had cake and gave greeting cards to Holly who will go on maternity leave next week.

CiCC Apprentice, Paddy, has started working with Medway Council and the CiCC to produce a new complaints leaflet for looked after children.

YLF receives £130 from the students of Robert Napier School in their 'Charity Week' fundraising efforts - thank you!