Children's Council Meeting
An empowering opportunity for children in care to make decisions on issues that affect their lives - the Children in Care Council (CiCC) meeting on Wednesday 4th February was held for looked after children in Medway.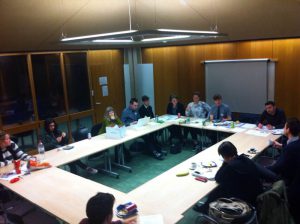 Ten CiCC members met with numerous professionals from Medway Council's looked after children team to discuss current issues that may be affecting their lives and those of others who are in care.
New members were welcomed and there was a lot to be covered on the agenda but we managed this in under two hours and every young person there had an opportunity to speak out.
The main achievement from the meeting was that Medway have now agreed that each young person in care aged 12-17 is subscribed to regular magazines from The Who Cares? Trust - this is really important to us! We also discussed a 'takeover day' at the Medway Council offices and foster care DVD and info packs!
Later this month, the CiCC will be holding an info and activity day for looked after young people in the Swale area. Not only will young people have the chance to have fun and make new friends, but find out how to join the CiCC and ask any questions. We want to hear your voice to help us make a difference to the care system. If you want to find out more about the event please ask your foster carer or social worker and they can book your place!
Also this week...
YLF have been present at the University of Kent and Christ Church University, Canterbury Re-freshers Fayres, advertising their wares and promoting the chance for students to volunteer with YLF!
We hope that those of you who attended had a good opportunity to find out more about volunteering - if not - check out our volunteer pages here.